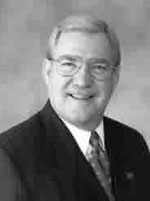 Jack Louis Allen was born April 28, 1937 in Columbus, Ohio, and adopted by Norman and Mildred Allen (both deceased). He attended Columbus Public Schools and graduated from South High School in June 1954. He attended The Ohio State University and Otterbein College, and is a veteran of the U. S. Navy. He is retired from The Dispatch Printing Company and the U. S. Government.
Jack married Yvonne Mae Birkhead on Nov. 4, 1956, and they have four children, Trent, Jon-Scott, Apryl and Eric, and four grandchildren, Troy, Lydia, Halee and Avery. Jack and Yvonne are Presbyterians and Jack is an ordained elder, having served on the Board of Sessions of Shady Lane Presbyterian Church, Groveport Presbyterian Church and Central College Presbyterian Church.
Most Worshipful Brother Allen is a past treasurer of the Press Club of Ohio; past president of the Dispatch Employees Country Club; past commissioner of the Shadywood Baseball Organization; former O. H. S. A. A. baseball umpire.
Most Worshipful Brother Allen was raised a Master Mason Mar. 15, 1959 in East Gate Lodge No. 603, and served as Worshipful Master in 1967. He served six years as trustee, 2 years as treasurer and then secretary for 18 years. When East Gate Lodge consolidated into Sunrise Lodge No. 783, he again served as secretary 11 years. He also served as secretary of the 14th District Officers Association.
He was secretary of Ohio Chapter No. 12, R. A. M.; is a member of Delaware Chapter No. 54; Sydney Moore Council No. 84, R. & S.M., Mt. Vernon Commandery No.1; Valley of Columbus, A. A. S. R.; Aladdin Shrine; Past Sovereign Master, George R. Fitez Council No. 229, Allied Masonic Degrees; Past Sovereign of Charlemagne Conclave of the Red Cross of Constantine; Achbar Grotto and Beacon Chapter No. 467, O. E. S.
Honors include Honorary Legion of Honor of DeMolay; Meritorious Service Medal, Aladdin Shrine; Prophet at Sight, Supreme Council of Grottoes of North American; 33°, Ancient Accepted Scottish Rite, NMJ; Knight Commander of the Temple; and a Kentucky Colonel.
Most Worshipful Brother Allen served as District Deputy Grand Master from 1986 to 1988. He also served as Chairman of Public Relations of the Grand Lodge of Ohio in 1978 and numerous years thereafter. He was appointed Junior Grand Deacon in August 1994, by Most Worshipful Brother Thomas D. Zahler; subsequently appointed Senior Grand Deacon, Grand Marshal and Grand Orator. He then was elected Junior Grand Warden, Senior Grand Warden and Deputy Grand Master. He was installed Grand Master of Masons in Ohio on Oct. 28, 2000, in Cincinnati, Ohio.
He is Chairman of the Grand Lodge Committee on Charters and Dispensations and was the founding dean of Freemasonuniversity.com.
Most Worshipful Brother and Mrs. Allen resides in Columbus, Ohio.