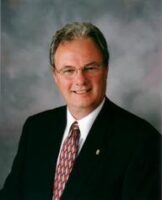 Jim graduated from Cedarville High School in 1965 and then enrolled at Clark State Community College in Springfield, Ohio, while continuing training and driving harness horses. He graduated in 1967 with an Associates Degree in Agri-business. Graduation was followed by a congratulatory letter from Uncle Sam notifying Jim that his next career would be to serve in the United States Army. During Basic Training, Jim had an opportunity to be an extra in a film (The Green Berets) that would enable him to meet one of his heroes, John Wayne! Jim was serving in the DMZ during the Vietnam conflict, when he received word from the Red Cross of his Father's sudden death. The Army subsequently re-assigned him to The Ohio State University Army ROTC Detail. In that capacity he became a Faculty member for the ROTC at The Ohio State University for the remainder of his tour of duty. During his tenure at The Ohio State University, Jim was fortunate to have numerous conversations with Woody Hayes, legendary coach of The Ohio State Football Team.
Following his honorable discharge in 1969, Jim returned to Cedarville to resume work in the family business of training and driving harness horses. This career took him to many States as he amassed a winning record and became one of the leading harness drivers in the country in the 1970s, but Jim made the decision to retire from driving and owning horses and return to live full-time in Cedarville.
In 1978, Jim joined Waste Management at an entry-level position and was promoted to various Management positions during 25 years of service. The last several years of his employment, he served as the Regional Human Resource Manager for Ohio, Kentucky and West Virginia, and was a motivational speaker and trainer on Human Resources and Safety Management issues at the Regional and Corporate level.
Jim met Cheryl (Koogler) Woods at a Shrine Dinner in 1976 and they married on February 12, 1977 in Cedarville, Ohio. They have a son, Jeff Woods who resides in Tucson, Arizona and daughter, Stacey and son-in-law, Lt. James Nicholson residing in Toledo, Ohio.
Jim is a life-long member of the Cedarville United Presbyterian Church. Jim and Sherry attend Grape Grove Church of Christ, near Jamestown, Ohio. They have made their home at Shawnee Lake in Jamestown, Ohio since 1978 where they have been actively involved in both school and local committees. Both Jim and Sherry have been members of various organizations at Shawnee Lake including, The Boosters Club, Fish & Game Club and Lake Patrol. Jim has also been elected to seven (7) three-year terms to the Board of Trustees, having served as Vice-President and President for twelve of those twenty-one years. He has been a member of the New Jasper Township Zoning Board for 3 years and Charter member of the Greene County Workforce Policy Task Force for 7 years.
Most Worshipful Brother Williamson was raised to the sublime degree of Master Mason in Cedarville Lodge No. 622 on April 18, 1970, where he served as Worshipful Master in 1974 and 1985. He received the Honorary Legion of Honor from the International Supreme Council, Order of DeMolay on July, 1999 in Kent, Ohio.
Illustrious Brother Williamson is a member of the Valley of Dayton, Ancient Accepted Scottish Rite, and was coroneted a 33rd Degree Honorary Member in Grand Rapids, Michigan on August 30, 2005. He is also a member of the Antioch Shrine and Greene County Shrine Club.
Most Worshipful Brother Williamson served the Grand Lodge of Ohio as a District Deputy Grand Master in the Eighth Masonic District in 1993, 1994 and 1995.
In October 1998, Most Worshipful Brother Williamson was appointed Junior Grand Deacon by Most Worshipful Brother Douglas O. Brenneman and was subsequently appointed Senior Grand Deacon, Grand Marshal and Grand Orator. He was elected Junior Grand Warden in 2002, Senior Grand Warden in 2003, and Deputy Grand Master in 2004. On October 22, 2005, he was installed as Grand Master of the Grand Lodge of Free and Accepted Masons of Ohio.
A Message from MWB Williamson:
Dear Brethren,
I wanted to take this final opportunity on the Grand Lodge website to thank you for your outstanding support of my program for 2005-2006, but especially for the great work you have done and I know will continue to do to promote Freemasonry!
I asked you to get involved in your communities and you did, and in the process you brought public awareness to Freemasonry and the good works we do. In our Lodges, we work to better ourselves, but in our communities, we must work to improve humanity. No Grand Master could ask for more or be prouder of your accomplishments! You have practiced Brotherly Love, Relief and Truth ~ and are Living the Principles of Freemasonry in your daily lives that will only continue to benefit our Family, Lodge, Community and Country!
Be proud that you belong to the Masonic Fraternity. Your actions will show others you are a Mason. People will forget what you say, but they will always remember how you made them feel, and if you live the Principles of Freemasonry – they will know Masons are good men who care. We must continue to embrace change and accept the fact that how we practice our Masonry is what counts, not how we receive it. It is the man himself that counts, not how well he returned his memory work. If we work to improve ourselves, Freemasonry will continue to be the greatest fraternal organization in the World.
God Bless You! God Bless Freemasonry! God Bless America!
Fraternally,
James M. Williamson, PGM