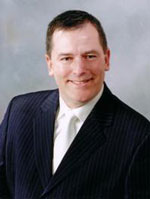 Charles Richard Murphy was born June 15, 1961 in Toledo, Ohio, the son of Charles R. and Linda B. Murphy. He was the oldest of two children, and his sister Mary Anne Davis resides with her family in Joelton, Tennessee.
He was educated at Maumee Valley Country Day School in Toledo, and graduated from there in 1979.  He subsequently attended Lawrence University in Appleton, Wisconsin, from which he received a Bachelor of Arts Degree upon his graduation in 1983.  During his college years, he was active in fraternal activities, and held many leadership positions in the Phi Gamma Delta fraternity, and also belonged to the honorary music fraternity, Phi Mu Alpha Sinfonia.
After graduation he lived in Minneapolis, MN, for a year, before coming back to his native Toledo.  It was in Toledo that he met his future wife, Zoellen D. Harrington.  They are very proud of their three children Cassie (Scott) Braithwaite, Brother Price Murphy and Sydney Murphy.  Cassie and Scott have two beautiful daughters, Stacey and Bridget, and Price and Sydney are in the process of completing their education at the University of Toledo.
In his professional life, Brother Murphy has always excelled in sales and marketing endeavors.  He was employed in the commercial furniture business for many years, and received numerous awards.  In 1999, he elected to switch career paths, and has been in the insurance industry since that time.  He is employed by The Ashley Group, where he is quite successful as an Employee Benefits Specialist.
In his private life, Brother Murphy spent many years breeding, training and showing dogs.  Although he has not been able to be active in recent years, he was one of the first importers of the Chinese Shar-Pei breed to this country from China, in an attempt to help keep them from extinction.  Additionally, he has bred, owned and shown nationally-ranked Bullmastiffs in both the United States and Canada.  Over the years, he also judged both breeds on occasion at special events all over the United States.
He enjoys music, and in his younger years sang with the All Ohio State Fair Youth Choir, and was selected to go with the group to represent Ohio on a concert tour through Europe.  He and Zoellen still enjoy singing, and do so whenever they have the opportunity.  Brother Murphy is an ordained Elder of the Presbyterian Church (USA), and has served on the Governing Session Board of Eastminster Presbyterian Church in Toledo.  In addition to serving on several committees there, he enjoys being a member of the choir, and participates in the music program there whenever his schedule allows him to do so.
Brother Murphy was raised in Genoa Lodge #433 in Genoa, Ohio, and served as its Worshipful Master in 1998-1999.  During the time he was a Lodge Officer he also served as an Officer of the Eleventh Masonic District, and was elected President of the District for the 1999-2000 Masonic year.
In York Rite Masonry, he was Exalted a Royal Arch Mason in Oak Harbor Chapter #162 RAM, and served as its High Priest in 2002.  Additionally, he was received a Royal & Select Master in Genoa Council #138, and served as Illustrious Master on two separate occasions.  He was knighted in St. Omer Commandery #59 in Perrysburg, and constituted a Knight Commander of the Temple under the statutes of the Grand Encampment of Knights Templar of the United States of America on October 10, 2008.  He is a KRBE member of Key To The Sea Council #112, Allied Masonic Degrees, having served as its Sovereign Master in 2007-2008.  He is a member of the Blackstone College #195, York Rite Sovereign College of North America, and was honored by having the Order of the Purple Cross of York conferred on him in July, 2009.
In Scottish Rite Masonry, he is a member of the Valley of Toledo, and served the Valley as Thrice Potent Master of the Mi-A-Mi Lodge of Perfection from 2004-2006.  In 2006 he was appointed Hospitaler, and is currently serving the Valley of Toledo in that capacity. He was coroneted a 33rd Degree Mason in Grand Rapids, Michigan in 2005.
Brother Murphy, a proponent of Masonic Education, has actively represented the Grand Lodge of Ohio in the Midwest Conference on Masonic Education.  This Conference encompasses 13 States and Provinces, and meets annually to promote ideas and share successes in Masonic Education.  He brought this Conference to Ohio as its President in 2012.
He is a member of Palestine Chapter #51, Order of the Eastern Star; the Downtown Toledo Hi Twelve Club #25; O-Ton-Ta-La Grotto #40; Ohio College of Rosicrucians MSRICF; and Zenobia Shrine, where he is a member of the Divan, the Hillbillies Clan #75 and the Lancers Unit.
A strong believer in the importance of Masonic youth groups, he served on the Advisory Council for Ottawa Chapter, Order of DeMolay, and is a proud recipient of the Honorary Legion of Honor.  Additionally, he was a member of the Advisory Board of the Maumee Assembly #30 Order of the Rainbow for Girls, and was honored to have become a member of the Grand Cross of Color.
Brother Murphy was appointed a District Deputy Grand Master for the 11th Masonic District by Most Worshipful Brother Jack L. Allen in the year 2000.  In 2001, Most Worshipful Brother Thomas E. Reynolds appointed him to the position of Junior Grand Deacon, and he was subsequently appointed Senior Grand Deacon, Grand Marshal and Grand Orator. He was elected Junior Grand Warden in 2005, Senior Grand Warden in 2006, and Deputy Grand Master in 2007.
On October 18, 2008, he was installed as Grand Master of Masons in Ohio.
M.W. Brother Murphy and Zoellen reside in Perrysburg Township, Ohio.