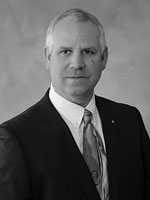 Most Worshipful Brother Rill was born in Oregon, Ohio on March 15, 1964 to the late Robert C Rill Sr. and Susan E. Rill. He is the oldest of 3 sons, and the family lived in Whitehouse, Ohio during his school years. He graduated from Anthony Wayne High School in 1982. He then attended the University of Toledo and graduated in 1985 with an Associate of Applied Science degree in Chemical Technology. While he was still a student at the University of Toledo, he started working for Jones & Henry Laboratories, where he is now Vice President of Field Operations and Marketing. Rob married Jennifer Kuras on July, 25, 1987. Jennifer is an Administrative Assistant to the Browning Masonic Community in Waterville, Ohio. They have been blessed with two daughters (Jamie and Jessica) and two granddaughters (Ariah and Sadie). Rob and Jennifer attend St. Petri Lutheran Church in Toledo, Ohio.
Most Worshipful Brother Rill was raised to the sublime degree of Master Mason in Northern Light Lodge No. 40 on February 23, 1993. He served his Lodge as Worshipful Master in 1997, and subsequently served as Chaplain and Trustee. He is an honorary member of Grand Rapids Lodge No. 289, North Baltimore Lodge No. 561, Wood County Lodge No. 112, Weston Lodge No. 560, Toledo Fort Industry Lodge No. 144, Paragon Lodge No. 788 and Proctorville Lodge No. 540.
He joined the Valley of Toledo, Ancient Accepted Scottish Rite, in 1994, and served as Thrice Potent Master of its Mi-A-Mi Lodge of Perfection in 2008 and 2009. He was coroneted a Sovereign Grand Inspector General, 33rd Degree, in Washington, D.C. in 2007. He is a past Trustee for the Valley of Toledo.
He is a member of Fort Miami Calumet Chapter No. 191, Royal Arch Mason, having served as High Priest in 2003 and 2004; Bowling Green Council No. 124, Royal & Select Masons; and St. Omer Commandery No. 59, Knights Templar. He and Jennifer are members of Lotus Chapter No. 477, Order of the Eastern Star.
Most Worshipful Brother Rill is a member of Zenobia Shrine; St. Thomas Conclave, Red Cross of Constantine; O-Ton-Ta-La Grotto; Turkey Foot Council No. 253, Allied Masonic Degrees, having served as Sovereign Master in 2013; Blackstone York Rite Sovereign College; Irish Council No. 67, Knight Masons USA; the National Sojourners; and Ohio College, SRICF. He is an honorary member of the Legion of Honor of the Order of DeMolay.
Most Worshipful Brother Rill served the Grand Lodge of Ohio as a District Deputy Grand Master for the 11th Masonic District from 2006-2008. He was appointed by Most Worshipful Brother Charles R. Murphy as Junior Grand Deacon of the Grand Lodge of Ohio in 2009. He was subsequently appointed as Senior Grand Deacon, Grand Marshal, and Grand Orator and was elected Junior Grand Warden, Senior Grand Warden, and Deputy Grand Master. On October 23, 2015, he was elected to serve the Grand Lodge of Ohio as its Grand Master and installed into that office on October 24, 2015 during the 206th Annual Communication, held in Columbus.