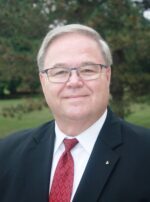 Most Worshipful Brother Keith Newton was born in McKeesport, Pennsylvania, in 1961 to the late Laura Lynne Newton and W. Robert Newton. Coming from a family with a rich Masonic background, Keith's mother was a Past Worthy Matron, Order of Eastern Star, and his father is a Past Master of Aliquippa Lodge No. 375. Keith lived most of his school years in Port Vue, Pennsylvania, where he was active in sports, music and DeMolay. He served several offices in DeMolay before becoming Master Councilor of McKeesport Chapter Order of DeMolay in 1976.
Keith attended South Allegheny High School, graduating in June of 1980. Upon graduation, he attended the Pittsburgh Institute of Aeronautics earning an Associate Degree and an Airframe and Powerplant license. Keith went on to earn his Bachelor of Science Degree from Embry Riddle during his thirty-six-year career in aviation. Retiring from aviation in 2020, he presently is the Grand Secretary for the Grand Lodge of Free & Accepted Masons of Ohio. Keith and Sharon are high school sweethearts, married on October 9, 1982. They have three daughters and six grandchildren, who are the joy of their lives. Keith enjoys motorcycling, hunting, shooting, and rocking chair time with a good cigar overlooking the mountains or beach.
Most Worshipful Brother Newton is a member of Wilmington Lodge No. 52 in the "Super" 8th Masonic District, serving his Lodge as Worshipful Master in 2001-02 and 2006-07, and currently serves as Treasurer. He is an Honorary Member of several lodges across our great jurisdiction.
Other Masonic affiliations include the Ancient Accepted Scottish Rite Valley of Dayton and Valley of Cincinnati, and he was honored to receive the Thirty-Third Degree on August 27, 2019, at the Supreme Council session in Milwaukee, Wisconsin. MWB Newton is serving on the Neil and Willa Jean Smalley Children's Dyslexia Center Board of Governors in Dayton. He is a member of Antioch Shrine and Washington Shrine Club. His York Rite memberships include Chapter, Council and Commandery, Knights Templar, Knights of the Red Cross of Constantine, Irish Council No. 67, Knight Masons, and Royal Order of Scotland. MWB Newton is also a member of Miami Chapter No. 107 Order of Eastern Star, Ormus Grotto – Past Monarch, High Twelve Club, National Sojourners, Past Master Councilor and Legion of Honor – Order of DeMolay, and rides with the Freemason Riders and Widows Sons Chapter Sons of Tyre.
MWB Newton has served the Grand Lodge of Ohio as District Deputy Grand Master from 2008-2011. He was appointed in 2012 by MWB James F. Easterling Jr. as Junior Grand Deacon of the Grand Lodge of Ohio. He was subsequently appointed as Senior Grand Deacon, Grand Marshal and Grand Orator. He was elected Junior Grand Warden in Sandusky in 2016, Senior Grand Warden in Dayton in 2017, Deputy Grand Master at Sandusky in 2018 and honored to serve the Brethren of the great State of Ohio as Grand Master 2019 – 2020.
Serving this Grand Lodge as Grand Master in 2019-2020 began in normal fashion.  The Grand Master's theme "Step into the Light" became very popular, offering our members a challenge to move out of their comfort zone, take on more responsibility and expand their knowledge of Ohio Freemasonry.
In December 2019, the Grand Lodges of Indiana, Michigan and Ohio gathered for a Tri-State Degree day.  In February 2020, MWB Newton served as Chairman of the Conference of Grand Masters of North America in Louisville, KY.  March 2020, the first MMSAP Masonic Youth joint event had over 200 in attendance.
March 16, 2020, the world as we knew it would be changed forever by the Coronavirus Pandemic emergency or COVID-19.  The Governor closed or restricted public activity which caused The Grand Lodge of Ohio to cease all meetings and activities.
"While the Values of Freemasonry never change, the ways of embodying and sharing them are constantly being adapted to the world and time in which we live".  To adapt, the first Virtual Masonic Meetings were introduced to the Grand Lodge of Ohio membership.  They offered electronic gatherings for masons to enjoy time together, with an agenda of education normal business.
June 2020 allowed Freemasonry to open its' doors again, limited by masks and the new term social distancing (6 feet apart).  Physical meeting participation was limited.  Grand Master Newton began statewide travel, completing Grand Master's visitations in each District and rescheduled Reconsecration ceremonies.
The Annual Communication of the Grand Lodge of Ohio was revised to a one day agenda, limited to 300 attendees, and video streamed to all Ohio members.  Electronic voting was used for legislation and Grand Lodge Officer elections.  To the best of our knowledge, this is the first time all Lodges were present at the Annual Communication.
"It's a Great Day for Freemasonry in Ohio."