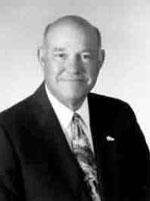 M. W. Brother Neil Martin Smalley was born on December 26, 1934 in West Union, Adams County, Ohio, the son of Branson C. and Mary C. (McClellan) Smalley. He moved with his family to the Dayton area at an early age and was educated in the Kettering City School System, graduating from Fairmont High School in 1952. He enrolled at Miami University and graduated in 1956 with a Bachelor of Science Degree in Business Administration.
In June 1956, he was employed as an accountant at Wright-Patterson Air Force Base. He held various supervisory and management positions with the Department of the Air Force and was serving as the Deputy Accounting and Finance Officer for the Base when he retired in January 1991.
On June 7, 1958, he was married to Willa Jean Kantner, a teacher in the Kettering City Schools. Both Neil and Willa Jean are active members of the United Methodist Church of the Cross. Neil has served on the finance committee, Chairman of the Board of Trustees, and has been an Usher for more than 30 years.
He is a Past President of the Dayton Chapter, Association of Government Accountants, and is a past officer of the Aviation Chapter, American Society of Military Comptrollers. He has been a member of the Board of Directors of the Kettering Parks Foundation since its inception in 1982 and is currently serving as President.
M. W. Brother Smalley was raised to the Sublime Degree of Master Mason in Alpha Lodge No. 729 on January 6, 1959, and served as Worshipful Master in 1971 and 1973.
In the Ancient Accepted Scottish Rite, he joined the Valley of Dayton on November 12,1960 and served as a Thrice Potent Master of Gabriel Lodge of Perfection from 1986 to 1988. Brother Smalley was Coroneted a Sovereign Grand Inspector General, 33rd Degree in Boston, Massachusetts on September 30, 1987, and crowned an Active Member of the Supreme Council on September 1, 1993, in Boston, Massachusetts.
In York Rite Masonry, he was exalted a Royal Arch Mason in Victory Chapter No. 210 on May 14, 1965. He was received a Royal and Select Mason in Reese Council No.9 on February 1, 1974, and served as Illustrious Master in 1982. He was knighted in Dayton Commandery No. 68 on February 18, 1974. He was constituted a Knight Commander of the Temple under the Statutes of the Grand Encampment of Knights Templar of the United States of America on March 15, 1994.
He is a member of Antioch Temple, Ancient Arabic Order Nobles of the Mystic Shrine which he holds veteran status in the Bobbie Unit, and is a Charter Member and Past President of the Past Masters Club. A member of Dayton Court No. 10, Royal Order of Jesters; a member and Past Puissant Sovereign of Holy Grail Conclave, Order of the Red Cross of Constantine. A member of the Royal Order of Scotland, a member and Past Excellent Chief of Buckeye Council No. 64, Knight Masons. A member and Past Sovereign Master of Thomas Smith Webb Council No. 57, Allied Masonic Degrees; a member of Three Rivers Forest No. 174, Tall Cedars of Lebanon; and a member of Belmont Chapter No. 555, Order of the Eastern Star. He received the Honorary Legion of Honor from the International Supreme Council, Order of DeMolay in 1991.
Brother Smalley was appointed a District Education Officer in the Second Masonic District in 1975, 1976, 1977 and 1978, and served as a District Deputy Grand Master for the Second Masonic District in 1979, 1980 and 1981. In 1988 Most Worshipful Brother David L. Dresser appointed him to the office of Junior Grand Deacon, and was subsequently appointed Senior Grand Deacon. Grand Marshal, and Grand Orator. He was elected Junior Grand Warden in 1992, Senior Grand Warden in 1993, and Deputy Grand Master in 1994. On October 21, 1995, he was installed Grand Master of the Grand Lodge of Free and Accepted Masons of Ohio.
M. W. Brother Smalley resides in Kettering, Ohio.