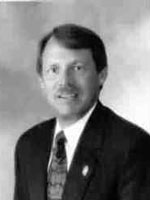 M. W. Brother, C. (Charles) Michael Watson was born on March 7,1948, in West Milton, Miami County, Ohio. He is the youngest son of Charles W. and Margaret E. (Whitehead) Watson. He attended Milton-Union Exempted Village Schools where he participated in varsity football, wrestling, and track. Following high school, he attended Sinclair Community College, Bowling Green University, and the University of Dayton. He holds a Masters Certificate from George Washington University.
M. W. Brother Watson served as a non-commissioned officer and received an honorable discharge from the United States Marine Corps.
He is a twenty-five year employee of the NCR Corporation, located in Dayton, Ohio. He has held a number of positions related to the field of Information Technology. He has achieved the certification of Project Management Professional (PMP) and is serving as a Senior Project Manager for the Worldwide Services division of the NCR Corporation.
M. W. Brother Watson has two sons, Colby Michael, 24 and Tyler Alan, 22. On June 25, 1983, he was married to Brenda F. Kidwell. They are all members of the Northwest Christian Church (Disciples of Christ), Michael having served as an usher, deacon and elder of the Church.
He has served as President of the Northmont High School Boosters Club. He holds membership in the following business or professional organizations: Southwest Ohio chapter of the Project Management Institute; American Management Association; National Management Association, Data Processing Management Association; and, Association for Systems Management.
He has been a member of Gingrich-Poince Post 487 American Legion for twenty-seven years. He is a regular blood donor having donated 15+ gallons of blood to the Community Blood Center in Dayton.
M. W. Brother Watson was raised to the sublime degree of Master Mason in West Milton Lodge #577 on September 15, 1973. He served as Worshipful Master in 1978.
In the Ancient Accepted Scottish Rite, he joined in April 1976, and served as Sovereign Prince, Miami Council, Princes of Jerusalem from 1990 to 1992. Brother Watson was Coroneted a Sovereign Grand Inspector General, 33rd Degree in Chicago, Illinois on September 29,1992. He is presently serving on the Valley of Dayton, Board of Trustees.
In York Rite Masonry, he was greeted a companion of Royal Arch Masonry in West Milton Chapter #180, (now Franklin Chapter #24), received a Royal and Select Mason in Franklin Council #14, and knighted into Coleman Commandery #17. He was constituted a Knight Commander of the Temple under the Statutes of the Grand Encampment of Knights Templar of the United States of America on March 18, 1996.
He is a member of Antioch Temple, Ancient Arabic Order Nobles of the Mystic Shrine where he is a member of the Past Master's Club. He is a member of Dayton Court #10, Royal Order of Jesters and Holy Grail Conclave, Red Cross of Constantine.
M. W. Brother Watson also is a member of Buckeye Council #64, Knight Masons and Thomas Smith Webb Council, Allied Masonic Degrees. He holds membership in Sharon Chapter #132, Order of the Eastern Star, and Miami Valley Court, Order of Amaranth. He received the Honorary Legion of Honor from the International Supreme Council, Order of DeMolay in 1993.
M. W. Brother Watson served as District Deputy Grand Master in the Third Masonic District in 1989 and 1990. In 1991, Most Worshipful Brother P. Dean Gerber appointed him to the office of Junior Grand Deacon, and he was subsequently appointed Senior Grand Deacon, Grand Marshal, and Grand Orator. He was elected Junior Grand Warden in 1994, Senior Grand Warden in 1995, and Deputy Grand Master in 1996. On October 18, 1997, he was installed as Grand Master of Masons in Ohio.
M. W. Brother Watson resides in Troy, Ohio.