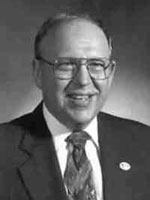 Thomas Harold Galyen was born on June 25, 1941 in Buffalo, New York, the son of Harold and Phyllis Zimmer Galyen. He and his parents moved to Cleveland, Ohio when he was 3 years old and he was educated in the Cleveland and Berea School Systems graduating from Berea High School in 1959. He served in the United States Army from 1959 to 1962.
He has been active professionally in credit union organizations for over 26 years and has been employed by the Hillcrest Educational Credit Union, Inc. in Richmond Heights, Ohio as the Chief Executive Officer for the past 10 years.
On February 15, 1964, he was married to June Ayers, a secretary in the Olmsted Falls City Schools. They are the parents of Julia, 26, an attorney in Chicago, Illinois and Richard, 21, a printer in Berea, Ohio. Tom and June are members of Olmsted Community Church.
Raised to the Sublime Degree of Master Mason in Quarry Lodge No. 382 (formerly Berea Lodge) on March 5, 1966, serving as Worshipful Master in 1971-72.
Exalted a Royal Arch Mason in Berea Chapter No. 134 on March 3, 1967. Greeted a Royal and Select Mason in Triangle Council No. 139 on March 9, 1968. Knighted a Knight Templar in Holyrood Commandery No. 32 on May 1, 1979.
He became a Sublime Prince of the Royal Secret, Ancient Accepted Scottish Rite, Valley of Cleveland, on April 22, 1967, serving as Thrice Potent Master of Eliadah Lodge of Perfection May, 1984 to May, 1986.
On September 24, 1985 was Coroneted a Sovereign Grand Inspector General, 33rd degree in Detroit, Michigan.
Other memberships include AI Koran Shrine, A.A.O.N.M.S.; Cleveland Court No.14, Royal Order of Jesters; St. Benedict Conclave Order of the Red Cross of Constantine; Cleveland Chapter No. 23 National Sojourners, Inc. and Moses Cleveland Camp Heroes of 76; The Philalethes Society; White Rose Chapter No. 176, Order of Eastern Star.
He is a recipient of the Honorary Legion of Honor from the International Supreme Council, Order of DeMolay and a recipient of the Grand Cross of Color, International Order of the Rainbow for Girls.
In October 1974 M. W. Brother Galyen was appointed District Deputy Grand Master and served in 1975, 1976,1977. He was appointed Junior Grand Deacon by Most Worshipful Brother John McKahan in October 1989 and subsequently was appointed Senior Grand Deacon, Grand Marshal and Grand Orator. He was elected Junior Grand Warden in October 1993, Senior Grand Warden in October 1994 and Deputy Grand Master in October 1995. On October 18, 1996 he was elected Grand Master and installed on October 19, 1996 in Dayton, Ohio.
In 1997 M. W. Brother Galyen was elected to the office of Grand Treasurer of the Grand Lodge of Ohio and continues to serve in that capacity.
M. W. Brother Galyen resides in Olmsted Falls, Ohio.