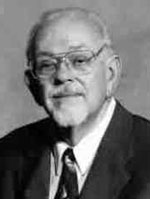 Ronald R. Rogers was born on October 6, 1934 in Cincinnati, the son of Burlin R. Rogers and Edna R. Nicholas Rogers. He was graduated from Norwood High School in 1952 and received his Bachelor's Degree in Business Administration from the University of Cincinnati in 1957.
For 35 years, he was employed by Clayton L. Scroggins Associates, a management consulting firm, retiring in 1997.
Most Worshipful Brother Rogers was married to the former Cheryl L. Weatherford, of Akron, Ohio, on June 23, 1956. After 42 years of marriage, she died suddenly at home on September 2, 1998. They were the parents of one daughter, Robin Klein, of Cincinnati, and the grandparents of one granddaughter, Leslie.
Most Worshipful Brother Rogers was a member of Forest Chapel United Methodist Church, where he served as chairman of finance, chairman of music, and as a member of the Administrative Board. He sang for several years in the Chancel Choir and served as its president. He also served as Area Financial Officer of United Way and president of the Forest Park Band Boosters.
Most Worshipful Brother Rogers began his Masonic career in Ivanhoe Chapter, Order of DeMolay, where he served as Master Councilor. He received the DeMolay Chevalier Degree in 1952 and was awarded the Active Legion of Honor designation in 1976.
He was raised a Master Mason in Norwood Lodge, No. 576, on February 3, 1956. He demitted to Liberty Lodge, No. 646, where he served as Worshipful Master in 1972. Liberty Lodge subsequently merged into Montgomery Lodge, No. 94. He was president of the First Masonic District Officers Association in 1978, president of the Society of Past Masters in 1987, and had been awarded Honorary Membership by numerous Symbolic Lodges.
In the York Rite, Excellent Companion and Sir Knight Rogers was a member of Willis Chapter, R. A. M., serving as High Priest in 1974; Cincinnati Council, R. & S.M.; Hanselmann Commandery, Knights Templar; and St. Columba Conclave, Red Cross of Constantine, serving as Puissant Sovereign in 1999.
Illustrious Brother Rogers was a member of the Valley of Cincinnati, Ancient Accepted Scottish Rite, serving as Commander-in-Chief of Ohio Consistory, in 1980-1982, and was Coroneted a 33rd Degree Mason in St. Louis, Mo., in 1982. He was a member for 12 years of the Valley of Cincinnati's Board of Trustees, serving as Chairman for 3 years.
A member of Syrian Temple, A. A. O. N. M. S., Noble Rogers was a band member for 34 years, serving as its president in 1970. For 14 years, he was on the Board of Governors of the Cincinnati Shrine Bums Hospital, 3 years as Chairman.
He was a member of the Cincinnati Court, Royal Order of Jesters, serving as Director in 1985-86. Other Masonic memberships included Royal Order of Scotland, Order of High Priesthood, Kentucky Colonels, and Tennessee Squires.
Most Worshipful Brother Rogers served the Grand Lodge of Ohio as a District Deputy Grand Master in the First Masonic District in 1984, 1985, and 1986. In 1992, he was appointed Junior Grand Deacon by Most Worshipful Brother H. Ray Evans, and was subsequently appointed Senior Grand Deacon, Grand Marshal, and Grand Orator. He was elected Junior Grand Warden in 1996, Senior Grand Warden in 1997, and Deputy Grand Master in 1998. On October 16, 1999, he was installed as Grand Master of the Grand Lodge of F. & A.M. of Ohio.
For many months, Most Worshipful Brother Rogers endured the suffering brought on by acute diabetes. During his term as Grand Master, he endured several hospital visits and operations, and, beginning in the summer months, made all his public appearances in a wheelchair. Within two months of the time he was scheduled to preside over the Grand Lodge Sessions in Cincinnati, he was undergoing daily rehabilitation treatments, preparing to assume his responsibilities. . On the morning of September 8, 2000, just 50 days before completing his term as Grand Master, Most Worshipful Brother Rogers was found by his daughter, Robin, in his home in Cincinnati, having apparently passed away in his sleep. His dedication to duty and intense desire to fulfill his responsibilities, even to the detriment of his health, are traits admired and respected by all who were close to him.
Most Worshipful Brother Rogers departed this life on September 8, 2000. Masonic Services were conducted by Montgomery Lodge, No. 94, on September 12, 2000 in the Scottish Rite Masonic Center in Cincinnati.