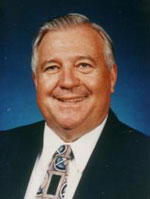 M. W. Brother Reynolds received "Ohio's Outstanding Biology Teacher" award from the National Biology Teachers Association in 1978, and the Findlay College Varsity F Educator Award in 1984. He coached the Findlay High School Golf Team from 1974 until 1995, achieving 21 winning seasons and earning the State Golf Championship in 1984. His record of 136 wins and 1 loss in dual meets is still an Ohio record. He was elected into the State Golf Coaches Hall of Fame in 1992 and the Hancock County Sports Hall of Fame in 1994.
M. W. Brother Reynolds was one of the first Boy Scouts to receive the God and Country Award in 1953 for the State of Ohio. For many years, he served as a Little League baseball coach, Boy Scout leader, and Cubmaster. He was a certified baseball umpire for the Ohio High School Athletic Association from 1964 to 1991.
M. W. Brother Reynolds served his community as a member of the Board of Public Affairs in the 1960s and late 1970s. He has served and is presently serving the University of Findlay as a member of the Board of Governors, as well as being an adjunct professor of Education and Biology. In 1998, Brother Reynolds was presented the "Distinguished Alumnus Award" by the University of Findlay.
M. W. Brother Reynolds married Marjorie Louis Barnhisel on September 1, 1957, and they have been blessed with two children. Rhonda Renee Nye, a secondary teacher, and her husband, Brother Michael Nye, of Van Buren, Ohio, have 4 sons, Nicholas, Jason, Drew, and Devon. Thomas Jeffrey, a system analyst for Kent State University, and his wife Marcy of Cuyahoga Falls, Ohio, have one daughter, Lola Lou.
The Reynolds are members of Good Shepherd United Methodist Church, where he has been a Sunday school superintendent or teacher for the past 40 years. He continues to serve his church as a Certified Layspeaker for the past 27 years and is presently the Lay Delegate to Annual Conference.
M. W. Brother Reynolds was raised a Master Mason on March 25,1968 in North Baltimore Lodge, No. 561. He served as Worshipful Master in 1973 and again in 1985. He served as Secretary of North Baltimore Lodge from 1992 through 1998. Brother Reynolds is a member of Morris Chapter, No. 265, Order of Eastern Star, serving as Worthy Patron on three different occasions. He became a member of Findlay Chapter, No. 58, Royal Arch Masons, in 1970; Findlay Council, No. 50, Royal and Select Masons, in 1973, Findlay Commandery, No. 49, Knights Templar, in 1974.
M. W. Brother Reynolds joined the Ancient Accepted Scottish Rite in the Valley of Toledo in 1991 and was Coroneted a Thirty-Third Degree Mason on September 25, 2001. He is a member of Blanchard Valley Council, Allied Masonic Degrees, serving as Sovereign Master in 2000. He is also a member of Zenobia Shrine Temple in Toledo, the Zenobia Mariners Unit, the Royal Order of Jesters, and St. Thomas Conclave, Red Cross of Constantine. In 1999, he received the Honorary Legion of Honor designation from the Order of DeMolay.
M. W. Brother Reynolds served the Grand Lodge of Ohio as a District Deputy Grand Master in the Eleventh Masonic District for three years. He was appointed Junior Grand Deacon of the Grand Lodge of Ohio by Most Worshipful Brother James E. Olmstead on October 15, 1994. He was subsequently appointed Senior Grand Deacon in 1995, Grand Marshal in 1996, and Grand Orator in 1997. He was elected Junior Grand Warden in 1998, Senior Grand Warden in 1999, and Deputy Grand Master in 2000. On October 20, 2001, Brother Reynolds was installed as Grand Master of Masons in Ohio.
At the, October 2001, Grand Lodge Communications of the Grand Lodge of Ohio, "History-making legislation was passed" allowing candidates to receive all three degrees in Symbolic Masonry in just one day. Grand Master Reynolds announced that the Grand Master's One-Day Class was to be presented on Saturday, April 27, 2002, at 10 locations about the state of Ohio.
Thomas E. Reynolds, Grand Master in 2002, died on June 28, 2008, after a recurring illness.
In the Fraternity, he was once described as "an intelligent, inspiring man with a passion for education."
Most Worshipful Brother Reynolds was Grand Master during the first Grand Master's (or one-day) Class in Ohio, which was very successful and attracted much attention nationally for our Grand Lodge.
At the time of his death, he was serving as a member of the national board of directors of the Masonic Model Student Assistance Program.
His ready smile, inspiring words, and sincere friendship will be missed by all who knew him.
Masonic Services, conducted by North Baltimore Lodge, No. 561, were held on July 1, 2008, in the Smith-Crates Funeral Home in North Baltimore. Funeral services were conducted on July 2 in Church of the Good Shepherd United Methodist Church, with burial in Weaver Cemetery, Bloom Township, Wood County.