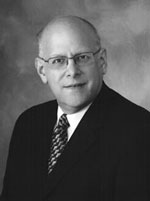 In November 1974, Brad married Kathleen Renee Alexander of Piqua, Ohio.  The Goebel's have two sons, Michael (1980) and David (1983). Michael is an Admissions and Recruiting Counselor at Gannon University in Erie, Pennsylvania and a member of Lyndhurst Masonic Lodge #508.  David, with Disney Leadership program manager's training, is presently working for Disney World in Orlando, Florida, serving in a marketing / sales manager's position. The Goebel's live in Willoughby, Ohio where Kathy is an Elementary School Teacher in the Willoughby-Eastlake Public School District.
Brad began his professional career as a Design Engineer with The STAMCO Division of The Monarch Machine Tool Company in New Bremen, Ohio.  In 1977, he accepted a job with The Horsburgh and Scott Company of Cleveland, Ohio and continues to work for that company as a Mechanical Design Engineer.
Brad and Kathy are members of Fellowship United Church of Christ in Wickliffe, Ohio, where Brad served as Council member and Vice-Moderator.  Brad is also a member of The Willoughby South High Boosters where he was named their "Booster of the Year" in 2002.  Brad has served the Boosters as a member of their Scholarship Committee.  For several years Brad worked as an official in YMCA and community swimming events where his children were participants.  He was a certified NCAA swimming official and worked as an official and starter at many local, league, and district swimming events.
MASONIC RECORD
As a member of Euclid City Chapter of the Order of DeMolay, he served as Scribe for several years before leaving to pursue his college education.  He is a recipient of the DeMolay Chevalier award, charter member of Senior DeMolay Mark Master Lodge #2 and a DeMolay Legion of Honor member where he served as Dean of the Northeast Ohio Preceptory.  He has been an active degree participant in the annual Legion of Honor investiture ceremonies for both the 2nd DeMolay District and the State of Ohio ceremonies.
Brad's first interest in DeMolay and Masonry were the result of his step-father, Robert E. (Gene) Winstead's involvement as a member of East Shore Lodge.  It was his step-father and his Masonic Grandfather, W.B. Harold Panke, who signed his petition to join East Shore Lodge when he reached his majority in Euclid City Chapter, Order of DeMolay.
In 1974, Brad joined East Shore Masonic Lodge #709 in Cleveland, Ohio.  He served as Worshipful Master in 1981-82 and later as Treasurer for many years.  Because of a series of Lodge mergers, Brad is now a member of Lyndhurst Lodge # 508.
Brad served the Grand Lodge of Ohio and the 22nd District as a District Education Officer from 1987-1991 and as a District Deputy Grand Master from 1992-1994. Brad was Secretary/Treasurer of the 22nd District Past District Deputy Grand Masters Association for many years before being elected and serving as its president in 2003.
In April 1979, Brad joined the Scottish Rite, Valley of Cleveland.  He was installed as Commander-in-Chief in May 2000.  His greatest joy as a presiding officer was being Commander-in-Chief for the conferral of the 32nd Degree to over 330 members of the one day Scottish Rite Class of 2002 including his son, Michael. As a presiding officer, Brad served on the Valley of Cleveland Board of Trustees from 2000-2002, and from 2004-2007. Brad was coroneted a Sovereign Grand Inspector General of the 33rd Degree in Boston, Massachusetts on September 3, 2002.  In June 2007, Brad was appointed the Deputy's Representative for the Valley of Cleveland and was selected as the honoree for the Scottish Rite Fall Reunion in October, 2010.
Brad is a member of Al Koran Temple Shrine in Cleveland and served as President of the Patrol Club in 1985.  In January 2007, he became a member of Ohio College of the MSRFC. In May 2008, Brad was made a Grotto Profit at Sight at Archbar Grotto in Columbus, Ohio. By virtue of this honor, he became a life-member of Caliph Grotto located in Mentor, Ohio.
Brad has received honorary memberships in Forest City Masonic Lodge #388 in Lyndhurst, Ohio; Lakewood Masonic Lodge #601 in Lakewood, Ohio; Halcyon Masonic Lodge #498 in Cleveland, Ohio, Proctorville Masonic Lodge # 550 in Proctorville, Ohio, George A. Holly Masonic Lodge #745 in Painesville, Ohio, Collinwood Masonic Lodge #582 in Euclid, Ohio, University Heights Masonic Lodge #738 in Lyndhurst, Ohio, and Elyria Masonic Lodge #787 in Elyria, Ohio.
Brad and Kathy are members of Willoughby Chapter, Order of Eastern Star.  Brad is also a member of The Cleveland Library Board where he served as second vice-president from 2007 to 2009.  He is presently serving as the First Vice-President of this organization. Brad is also a life-member of The Cuyahoga County Memorial Lodge.
Brad is a member of Heights Chapter #206 Royal Arch Masons, Windermere Council #113 Royal & Select Masons, and Coeur de Lion Commandery #64 Knights Templar.  In 2009 he was constituted a Knight Commander of the Temple by the Grand Commandery of Ohio.
Most Worshipful Brother Steven J. Krekus appointed him to the office of Junior Grand Deacon in October 2003, and he was subsequently appointed Senior Grand Deacon, Grand Marshal, and Grand Orator.  He was elected Junior Grand Warden in 2007, Senior Grand Warden in 2008, and Deputy Grand Master in 2009.  On October 16, 2010, he was installed as Grand Master of The Grand Lodge of Free and Accepted Masons of Ohio at the 201st annual communication of the Grand Lodge of Ohio held in Dayton, Ohio.