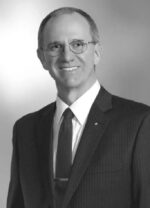 Kevin B. Todd was installed Grand Master of the Grand Lodge of Free & Accepted Masons of Ohio on Saturday, October 15 at 11 am.  This 203rd annual installation of the Grand Lodge officers also included the installation of James F. Easterling as Deputy Grand Master, Norman J. Mick as Senior Grand Warden; Ronald L. Connelly as Grand Treasurer, C. Michael Watson as Grand Secretary, David L. Collins as Grand Chaplain, Robert C. Rill as Grand Orator, Douglas N. Kaylor as Grand Marshal, Eric R. Schau as Senior Grand Deacon, Michael T. Puskarich as Junior Grand Deason, and Calvin E. Giusto as Grand Tyler.  Steven E. Cokonougher will be installed as Junior Grand Warden in the immediate future due to the illness of his wife Judy.
Family
Kevin Bruce Todd was born on January 21, 1955 in Lakewood, Ohio to Harold W. (deceased) and Jeanette Todd. He was the youngest of six children and was raised on a farm outside of Footville, near Rock Creek, Ohio. He met Pamela Jane Davies at Kent State University in 1974, and they were married on July 15, 1978. Pam teaches Third Grade at Crestview Elementary School, in Columbiana, Ohio. Kevin and Pam are blessed with two wonderful children, a son, Morgan (Washington Lodge #17) and daughter, Shannon. Morgan resides in Cincinnati, Ohio, and works as an Environmental Geologist. Shannon, an Elementary School Teacher, is married to Ryan Mercer and resides in Columbiana, Ohio. Shannon and Ryan have two sons, Riley and Colin.
Education & Occupation
After graduating from Geneva High School, Geneva, Ohio, in 1972, Todd enrolled at Pittsburgh Institute of Aeronautics and graduated in 1974 with an Associates Degree in Aerospace Maintenance and obtained his FAA Aircraft Mechanics Licenses. He enrolled in the Aerospace Technology program at Kent State University where he received a Bachelors of Science Degree in 1977. Following graduation from KSU, he was employed by several different aerospace companies located on the East Coast.  He returned to Ohio in 1989 taking a position as Senior Design Engineer with the Saint-Gobain Performance Plastics Corporation.  He continues to hold that position and designs aircraft components, tools, and manufacturing processes for many civilian and government aircraft projects.
Community Service
Todd has, through the years, been involved with his local community as an adult leader in Cub Scouts and Boy Scouts, High School Band Boosters, Village Councilman, and a Session member of the New Waterford Presbyterian Church. He is an instrument rated private pilot with his aircraft based out of Salem Airport, Salem, Ohio.
Lodge & Grand Lodge
Brother Todd was raised a Master Mason in Mantua Lodge #533 in the 25th District in 1989 and then became a member of Allen Lodge #276 in Columbiana, Ohio in 1990, where he progressed through the officer's line to serve as the Worshipful Master in 1997. While serving as Lodge Secretary, he was appointed to serve as a District Deputy Grand Master in the 24th District in 2002 and 2003. MWB Jim S. Deyo appointed Brother Todd to serve the Brethren of the Grand Lodge of Ohio as the Junior Grand Deacon in 2004. He progressed through the Grand Officers Line to be elected as Deputy Grand Master in 2010. At the conclusion of the 202nd Annual Communication of the Grand Lodge of Ohio, he was elected to serve his Ohio Brethren as Grand Master, being installed as Grand Master of Masons in Ohio, in Cleveland on October 15, 2011.
Additional Masonic Affiliations
Brother Todd is a 33º member of the Valley of Youngstown, Ancient Accepted Scottish Rite, and a member of Youngstown Chapter #93, Royal Arch Masons; Buechner Council #107, Royal & Select Masons; St. Johns Commandery #20, Knight Templars; Al Koran Shrine, Youngstown Shrine Club; Aut Mori Grotto; Masonic Motorcycle Club Chapter #3; and an honorary member of New Lisbon Lodge #65 and Proctorville Lodge #550. Pam and Kevin are both members of Miriam Chapter #278, Order of the Eastern Star in Youngstown.