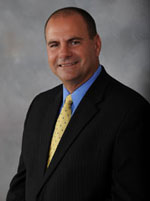 Most Worshipful Brother Easterling was born in Akron, Ohio on September 4, 1964 to the late Dolores M. Swigert and James F. Easterling, Sr. He lived most of his school years in Doylestown and attended Chippewa High School, graduating in June of 1982.  Upon graduating, he has worked for his family owned business – Summit Excavating and is currently Vice President.  Jim married Jill Teresa May on December 27, 2003.   Jill is a Supervisor/Administrative Assistant to the Director of Environmental Health for the Summit County Health District.  Jim and Jill attend Crossroads Community Church in Doylestown.  Jim's hobbies include traveling to the Caribbean, photography and golf.
Most Worshipful Brother Easterling is a member of National Lodge #568 in the 21st District, serving his Lodge as Worshipful Master in 1996 and also was Chaplain, Trustee and a member of the Temple Board Committee for a number of years. He is currently serving as Fundraising Chairman.  He is an Honorary Member of Tuscarawas Lodge #59, New Philadelphia Lodge #177, Caldwell Lodge #330, Forest City Lodge #388, Port Washington Lodge #202, Parkside Lodge #736, Shelby Lodge #350, William McKinley Lodge #431, Shiloh Lodge #544, Mt. Zion Lodge #9, Proctorville Lodge #550, Bellville Lodge #376, Tippecanoe Lodge #174, Ebenezer Lodge #33, Meridian Sun Lodge #69, Mystic Tie Lodge #194, St. Andrews Lodge #619, Stonington Lodge #503, Conrad Lodge #271, Clinton Lodge #47, Science Lodge #50, Bridgeport Lodge #181, Mt. Akra Lodge #680, William H. Hoover Lodge #770, Huber Heights Lodge #777 and Canton Lodge #60.
MWB Easterling is a Thirty-Third Degree Mason of the Ancient Accepted Scottish Rite, Valley of Akron serving as Thrice Potent Master, Aroba Lodge of Perfection in 1998.  He has served as President of the Scottish Rite Officers Association, the Endowment Fund Committee and is currently serving as the Deputy's Representative.
He is a member of Portage Chapter #202 Royal Arch Masons, Akron Council #80 Royal & Select Masons, Akron Commandery #25, Tadmor Shrine, and Widow's Sons Motorcycle Assoc. He and Jill are members of Bolivar Chapter of the Order of the Eastern Star and an Honorary Members of Fall Chapter #245, Legacy Chapter #596 and Rizpah Chapter #153. Jim is a member of Western Reserve Council #59 Allied Masonic Degrees, was elected a Knight Companion of Charlemagne Conclave Red Cross of Constantine and is an Honorary Legion of Honor, Order of DeMolay and an Honorary Member of the International Order of Jobs Daughters.
MWB Easterling has served the Grand Lodge of Ohio as District Education Officer from 2001-2002 and as District Deputy Grand Master from 2003-2005.  He was appointed in 2005-2006 by MWB James M. Williamson as Junior Grand Deacon of the Grand Lodge of Ohio.   He was subsequently appointed as Senior Grand Deacon, Grand Marshal, Grand Orator and was elected Junior Grand Warden in Toledo in 2009, Senior Grand Warden in Dayton in 2010, Deputy Grand Master in Cleveland in 2011 and he was elected to serve the Brethren of the great State of Ohio as Grand Master, being Installed in Akron on October 20, 2012.