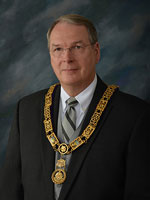 Doug Kaylor was born in 1952 in Dayton, Ohio, to Roland and Lucille Kaylor. He was raised in a Masonic family. His father and grandfather were charter members of Alpha Lodge, No. 729, in Dayton, and his mother and grandmother belonged to Belmont Chapter, No. 555, Order of the Eastern Star. He grew up in Beavercreek Township in Greene County, where, in addition to the typical school activities, he was active in Scouting and became an Eagle Scout.
A library administrator by profession, Mr. Kaylor enjoyed a successful career in higher education. He served in various positions in the libraries at Wright State University and then spent eleven years as library director at Sinclair Community College. During his career, he chaired various national, state, and local library and professional society programs and projects.
Brother Kaylor was raised in Alpha Lodge, No. 729, on June 2, 1987. He served as Worshipful Master in 1996. He later served three years as a District Education Officer and two years as District Deputy Grand Master for the Second Masonic District, being first appointed by M.W.B. William P. Mayberry, Sr. He became a plural member of Dayton Lodge, No. 147 in 2006. In 2009, he was appointed Junior Grand Deacon of the Grand Lodge of Ohio by Most Worshipful Brother Terry W. Posey. He progressed through the line until elected Grand Master in 2016.
Brother Kaylor joined the Ancient Accepted Scottish Rite Valley of Dayton on April 9, 1988. He served the Valley in various offices including Thrice Potent Master of Gabriel Lodge of Perfection. He also served for many years on the board of governors of the Dayton Children's Dyslexia Center honoring Neil and Willa Jean Smalley. On August 27, 2007, he was coroneted a 33° Sovereign Grand Inspector General and Honorary Member of the Supreme Council. In 2010, he was crowned an Active Member of the Supreme Council, and elected to the board of the Scottish Rite Museum and Library in Lexington, Mass. In 2014, he was elected Deputy of the Supreme Council for Ohio, and as such, is Commander-in-Chief of the Ohio Council of Deliberation.
Brother Kaylor is a member of Victory Chapter, R.A.M, Adoniram Council, R. & S.M., and Reed Commandery, K.T. He belongs to Antioch Shrine and is a member of its Past Master's Club and the Arabic Club. He is a member of Belmont Chapter, O.E.S. He is a past sovereign master of Thomas Smith Webb Council, Allied Masonic Degrees. He is a member of Holy Grail Conclave, Red Cross of Constantine. He is also a member of the Royal Order of Scotland as well as Irish Council, Knight Masons, USA. He is an honorary member of the Cleveland Chapter of National Sojourners, and he has received the DeMolay Honorary Legion of Honor. He is an honorary member of the Prince Hall Grand Lodge of Ohio. Always interested in learning, he is a member of the Ohio Lodge of Research, QCCC Correspondence Circle, and the Philalethes Society.
Doug and Diana Kaylor were married on June 24, 1989. They have one daughter, Allison DelMedico. Allison and her husband, Jamie, have two children, Sloane and Vincent. Both Doug and Diana agree that family and especially grandchildren are among life's best blessings.