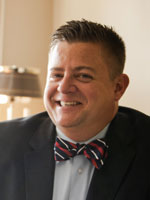 Most Worshipful Brother Jess Neil Raines was born in 1974 in Beverly, Ohio, to Rebecca Ross and Steven D. Raines. He grew up in McConnelsville, Ohio, where he attended Morgan Local Schools, graduating from Morgan High School in 1992. During that year, he also earned the rank of Eagle Scout. Jess continued his education at Marietta College, graduating in 1996 with a Bachelor of Arts Degree in Accounting. While at Marietta, he was a member of Delta Tau Delta Fraternity, where he held various leadership positions and belonged to the honorary business fraternity, Tau Pi Phi.
In September 2001, Jess married Kelly Elaine Wolford of Marietta, Ohio. They have two sons, Jordan and Logan, who attend Morgan Local Schools. Both are active in youth sports, playing soccer, basketball, and track and field. Jess has served as a coach for youth soccer, and he and Kelly actively support their boys' many sporting events. They reside on the family farm in Malta, Ohio, and are members of Malta United Methodist Church.
In his professional life, Most Worshipful Brother Raines is a Certified Public Accountant and currently serves as the Vice President of Finance and Administration at Washington State Community College in Marietta, Ohio. He is also active in his community, serving as Chief Financial Officer of the Morgan Education Foundation, member of the Board of Directors of the Economic Roundtable of the Ohio Valley, and Past Chairman of the Muskingum Valley Chapter of the American Red Cross.
Following in the footsteps of his stepfather, Chet Pifer, Most Worshipful Brother Raines was raised a Master Mason on March 27, 1998, in Valley Lodge No. 145, Malta, Ohio in the 17th Masonic District. He served as Worshipful Master of Valley Lodge in 2001, 2002 and 2003. He is a past Trustee of the Lodge and has served as Treasurer since 2004. He is an Honorary Member of American Union No. 1, Lodge of Amity No. 5, Magnolia No. 20, Paramuthia No. 25, Columbus No. 30, Tuscarawas No. 59, Wood County No. 112, Malta No. 118, Plainfield No. 224, Webb No. 252, Allen No. 276, Clemente Amitie No. 285, Licking No. 291, Arcanum No. 295, Middleport No. 363, Harmer No. 390, Masterton No. 492, Pleasant Valley No. 531, Proctorville No. 550, and Peerless No. 591. He is a Past President of the 17th Masonic District Officers Association.
Most Worshipful Brother Raines is a Thirty-Third Degree Mason of the Ancient Accepted Scottish Rite, Valley of Cambridge, having been coroneted in Rochester, NY on August 29, 2017. He is a plural member of the Valley of the Firelands. Jess and Kelly are members of the Olive Branch Chapter No. 251, Order of Eastern Star. He is a member of Aladdin Shriners, including the Marietta Shrine Club and the Morgan County Shrine Club where he is past president and past treasurer. He is also a member of American Union Chapter No. 1 Royal Arch Masons, Marietta Council No. 78 Royal and Select Masons, and Marietta Commandery No. 50 Knights Templar. Most Worshipful Brother Raines is also a member of Ohio Valley York Rite College No. 196. He is also a recipient of the Honorary Legion of Honor, Order of DeMolay. He is also an honorary member of the National Sojourners, Cleveland Chapter No. 23.
Most Worshipful Brother Raines served the Grand Lodge of Ohio as District Deputy Grand Master from 2009 to 2012, serving three years until being appointed Junior Grand Deacon on April 21, 2012, by Most Worshipful Brother Kevin B. Todd. He was subsequently appointed as Senior Grand Deacon, Grand Marshal, Grand Orator and was elected Junior Grand Warden in Columbus in 2015, Senior Grand Warden in Sandusky in 2016, Deputy Grand Master in Dayton in 2017 and he was elected to serve the Brethren of the Great State of Ohio as Grand Master, being Installed in Sandusky on October 13, 2018.
As Grand Master, Most Worshipful Brother Raines led the Grand Lodge's efforts to introduce a new membership management computer system by Grand View, drove the development of the marketing program, "This is Ohio Freemasonry," led the Grand Lodge officers in attending the Tri-State Degree Day in Indianapolis, and hosted a grand lodge tour of Gettysburg, Washington DC, and Mount Vernon. During this trip, he and his fellow officers laid a wreath at the Tomb of the Unknowns. He authorized a series of Grand Master's Classes in Ohio that included over 1300 new Master Masons out of the 2000 raised during the year. He concluded his highly successful year by hosting the Annual Communication of the Grand Lodge at Marietta, Ohio, home of the first Masonic Lodge in the Northwest Territory.