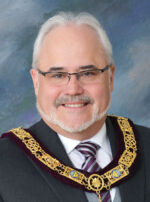 Timothy S. Wheeland was born on September 4, 1967, and he has spent most of his life in the central Ohio area (Columbus and Powell areas). He graduated from Northland High School in 1985 and attended The Ohio State University and Franklin University, earning a Bachelor of Science degree in Marketing.
Tim is married to his high school sweetheart (Kim) and they have two grown children (Ryan and Megan) – and seven grandchildren.
After graduating high school, MWB Wheeland needed to find a job that would allow him to work his way through college. After working miscellaneous jobs over the summer, he accepted a position at CompuServe Incorporated at the age of 17.
Fast forward thirty-seven years later – and you will now find Tim managing the membership operations of not only CompuServe, but AOL, Yahoo, and Netscape as well. MWB Wheeland's career has included many roles – including business management, membership management, project / product management, people management, and technology innovation / integration. Tim's background in membership management and subscriptions has allowed him to bring an understanding of the critical metrics that drive member acquisition, membership losses, and membership retention to the fraternity.
While golfing one day with his father-in-law (Clyde "Joe" Bourne), a discussion came up about the Masons – and little did Tim know, that this would be the start of a wonderful lifetime journey. Tim was initiated an Entered Apprentice, passed to the degree of Fellow Craft, and raised to the Sublime Degree of Master Mason on April 9th, 2005 – during the statewide Grand Master's Class event. MWB Wheeland was blessed by the members of University Lodge #631 – as they were warm, welcoming, friendly, and caring. The members and officers encouraged Tim to take part in the various Lodge functions and they worked on teaching him the proficiencies, ritual, lectures, charges, and other aspects of Masonic life.
MWB Wheeland soon found himself progressing through the Lodge's officer chairs – and being elected as the Worshipful Master of University Lodge in 2011. After serving as Worshipful Master, Tim served as an officer in the 14th Masonic District Association – and then was appointed as Deputy Grand Master in 2013. One year later, in 2014, MWB Wheeland was appointed to the Grand Lodge of Ohio as Junior Grand Deacon by MWB Steven E. Cokonougher, Grand Master of Masons in Ohio.
Tim was subsequently appointed as Senior Grand Deacon (2015), Grand Marshal (2016), Grand Orator (2017), and was elected Junior Grand Warden in Sandusky (2018), Senior Grand Warden in Marietta (2019), and Deputy Grand Master in Wilmington (2020). In 2021, MWB Wheeland was elected to serve and represent the Brethren of the great State of Ohio as Grand Master in Sharonville on October 15th, 2021.
MWB Wheeland served as the Thrice Potent Master of the Enoch Lodge of Perfection of the Ancient Accepted Scottish Rite, Valley of Columbus 2020-2021 and received the 33rd Degree in Cleveland, Ohio on August 31st, 2021. He is also a member of Community Chapter #226, Royal Arch Masons; West Gate Council #129, Royal & Select Masons; Columbus Commandery #69, Knights Templar; Aladdin Shrine; Achbar Grotto; St. Jerome Conclave, Red Cross of Constantine; Andrew J. White Jr. Council #245, Allied Masonic Degrees; and the Widows Sons, Craftsman Chapter. MWB Wheeland also received the DeMolay Legion of Honor in September of 2019.
Outside of the fraternity, Tim enjoys golfing, bourbon tasting, hunting, shooting, and when time allows – just relaxing.