Muskrat may not be the first thing you think of to have for dinner, but every January, Caldwell Lodge #33 hosts a dinner centered around just that. With all the focus on sheltering at home, we wanted to reminisce on one of the more exciting and entertaining events in the Ohio Masonic Community. We spoke with long time attendee MWB Jim Easterling to tell us more about the Muskrat Dinner. Read on to learn about the curious tradition, what muskrat really tastes like, and the importance of these lighthearted traditions.
Q: When did you first become involved with the muskrat dinner?
A: I have been going to the muskrat dinner for 30 yrs. In 2013, I did have the pleasure of being the guest of honor during my tenure as Grand Master, which was a treat.
Q: How did the muskrat dinner come to be such a unique event in Masonic History?
A: The first dinner was held over 70 years ago! Since then, it's happened annually on the second or third Saturday in January, and the current Grand Master is always invited to come. I was speaking to a senior brother recently, and he was telling me the true origin story. Before Caldwell Lodge #330 moved into the building, there was a restaurant in the bottom part of the Temple. This restaurant served muskrat once a year and when the Lodge moved in the building upstairs they kept that tradition, which then started the muskrat dinner. It's been going on ever since.
At its start, the fellowship was always an important part of Caldwell Lodge members and visitors from other Lodges. The muskrat dinner always brought fellowship, and at its height, well over 200 guests were served.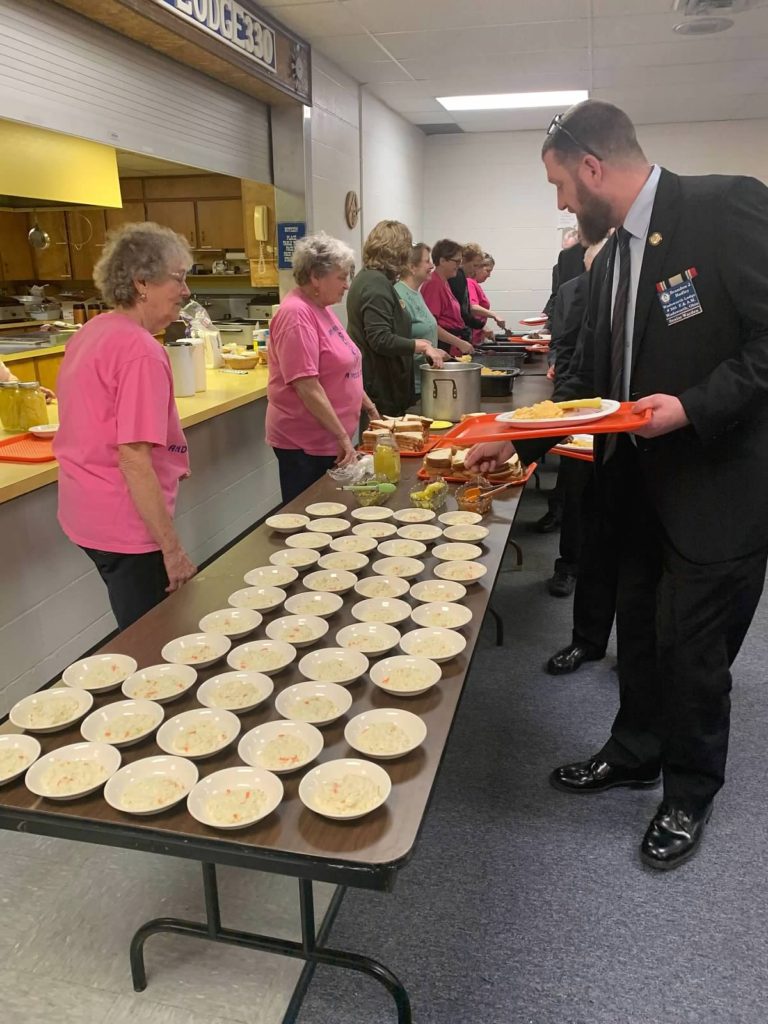 Q: How does one prepare for the muskrat dinner?
A: The most important thing to note is that it's not referred to as muskrat, just rat! In years past, the rats served were wild-caught (and a bit foul-smelling), but in recent years the rats have been farm-raised. The key to preparation is to soak the meat in salt water for a number of days beforehand to get some of the smell out and to get the meat to be less gamey. The muskrat is prepared two ways, either regular with traditional seasonings, or BBQ style. Much admiration and appreciation is given as well to the wives of Masons who spend days preparing the muskrat and hours cooking the day of. Through all of the hard work and foul smells they cook the rat with pride and for that, we're so thankful!
When served, you can get either a quarter rat, half rat or full rat. In addition to the rat, beaver and ham slices are also served as meat alternatives, and sides of scallop potato and coleslaw are offered. As a fundraiser, Caldwell Lodge also has its canned hot peppers available to eat during dinner and for sale afterward. They're delicious! Most guys will cover their rat in the hot peppers, or even applesauce. The meal is then topped off with some form of dessert.
Q: We imagine not many people have had the pleasure of eating muskrat before. Can you describe what muskrat tastes like?
A: For those that have not had muskrat before, think of the darkest piece of meat on a chicken, and muskrat meat is 10x darker than that. It's so dark that sometimes it will have a greenish tint to it. It's definitely an acquired taste that some guys love and others can't stand. What most people do find surprisingly good is the beaver meat offered! It's very similar to a pot roast, so most are able to consider eating it over the muskrat. I've found in my time as Grand Master that I really enjoyed prepared beaver.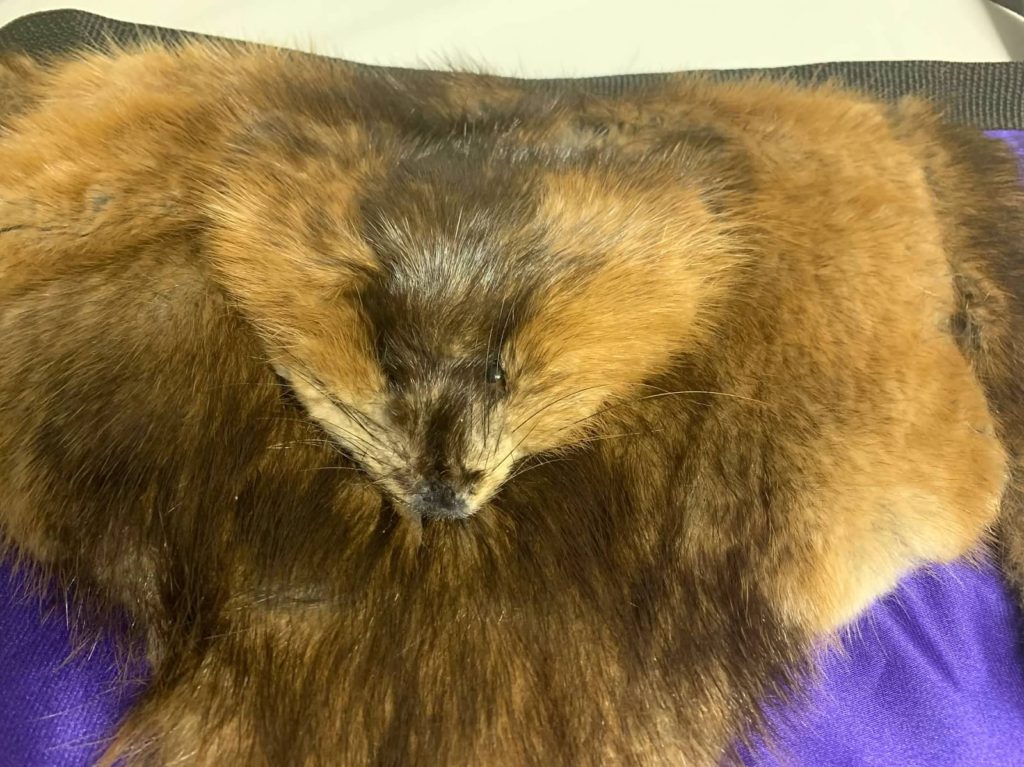 Q: What are some traditions that go on?
A: When it first began, brothers used to do sing-alongs and history lessons. In present times, it's now considered more of a spoof degree. Every year, the Grand Master serves as the candidate, and his initiation is done for fun. During my attendance as Grand Master, they had me do a trivia contest where I got a pile of names of the past twenty-five Grand Masters and had to put the names in order of time served. Thankfully, I passed! At the end of the spoof degree, the Grand Master gets a hand made muskrat apron with the head of a muskrat as the flap.
In addition to being a spoof degree, it now has started as an inspection season kickoff tradition since it is held at the beginning of every calendar year. It's a great chance to get lodges out and traveling and to have more of a fellowship/camaraderie before the inspection season starts.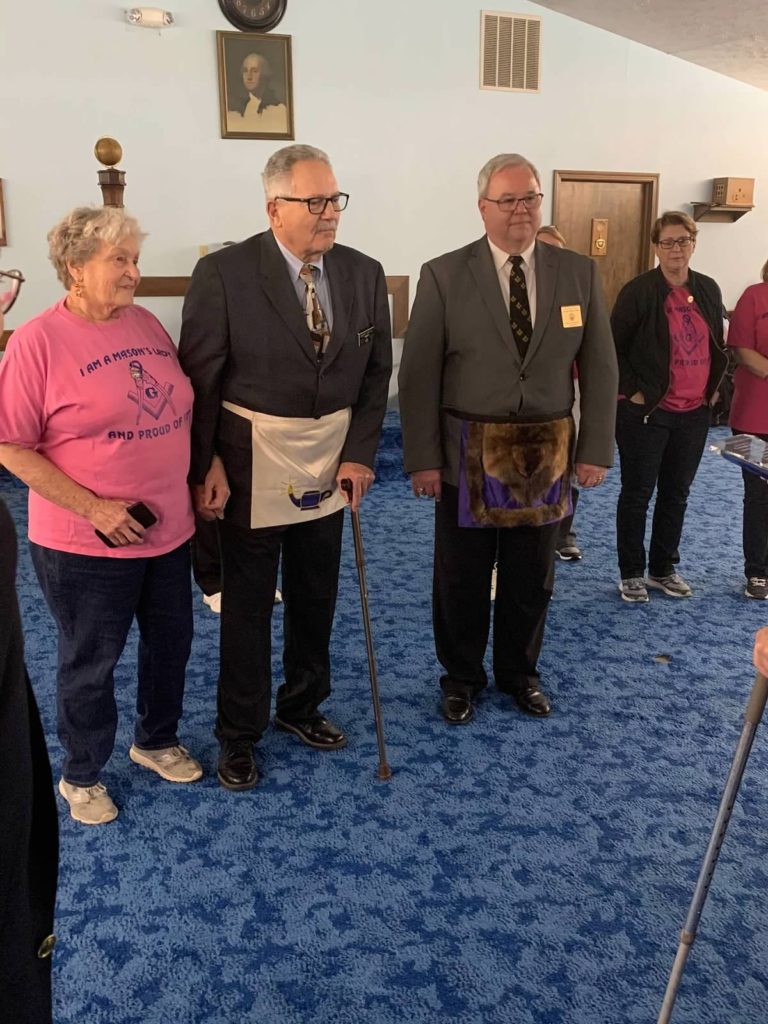 Q: Are there any interesting or funny stories you can tell about dinners' past?
A: As Grand Master, when you attend the dinner the officers of the lodge will present you with jewels and aprons. The jewels I got were a bottle of Pepto Bismol and a bottle of Tums! Another funny tradition is a play on Masons making their obligations. Traditionally, Masons take their obligations on the Holy Bible, but for me when I took my obligations, it was over an issue of Stream & Field Magazine. If you don't take your obligation, you're jokingly threatened to get the tail end of the muskrat on your apron instead of the head.
There are always so many stories as well of wives of Masons who would not let their husbands in the door without taking their clothing off due to the smell. To that, I can sympathize with!
Have you attended the muskrat dinner at Caldwell Lodge before? If so, share with us your most favorite memory from the dinner on social media! Find us at @grandlodgeohio on Facebook, @GrandLodgeOhio on Twitter, or email us at OhioLodgeLife@freemason.com.
Enjoy this article? Share it with your Brothers or follow the Grand Lodge of Ohio on Facebook, Twitter and LinkedIn to find out when we have a new post!