Men who join Ohio Freemasonry are men of character, men from all walks of life, and most importantly, men who live with fraternal duty. The Grand Lodge of Ohio recently discussed how the Brothers of Alpha Lodge #729 are putting this philosophy into practice everyday. Read our conversation with Brother Lou Imundo below and congratulate the men of Alpha Lodge on the work they're doing to ensure Ohio Masonry continues to thrive.
Tell us about Alpha Lodge.
Alpha Lodge is known as the first Dayton lodge formed outside of the downtown Dayton Masonic Temple, hence the name Alpha. While the lodge used to reside in Dayton it moved down the street into the community now known as Kettering. We have had two Grand Masters of Ohio come from our lodge: Neil Smalley and Doug Kaylor who currently works as the Membership Chairman for the Grand Lodge of Ohio.
What is the community of Kettering like?
The city of Kettering is named after Charles Kettering, inventor of the automobile self-starter and founder of a prominent local company, the Dayton Engineering Laboratories Company (DELCO). Kettering is also known statewide for its excellent schools. Several teachers are members and spouses at the lodge. The lodge hosts a monthly breakfast for the community free of charge on the first Saturday of the month. It is widely known in the community at large as well as the Masonic community. Due to its success, the breakfast has been going on for at least the last 7 years. Donations are accepted and our Brothers always volunteer to cook and clear tables. They enjoy spending time with the Kettering community.
Describe your lodge's connection to the Dayton Veterans Affairs.
The Dayton Veterans Affairs Center is the local 'office' of Veterans Affairs. There is a large hospital and a national cemetery on site. There are over 58,000 veterans buried there. The wreath laying program was brought to our attention by one of our members, Richard Favorite, who had participated in it in the past. Wreaths Across America is a national wreath laying program: Christmas wreaths are purchased and on a Saturday morning in December our Brothers volunteer to place them on veterans' graves at VA National Cemeteries around the country. A short word of thanks is said every time a wreath is laid. A month later, we return to pick up the wreaths so that they can be recycled.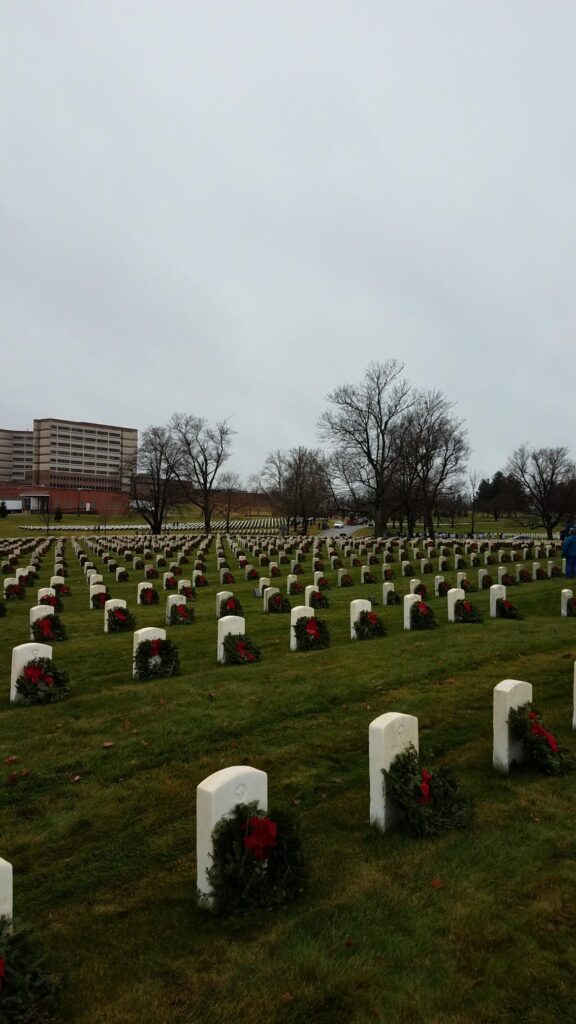 What is the impact your lodge and its charitable efforts have on your local community?
The impact from the lodge is seen through the monthly breakfast, and our fundraising and donations to the Kettering Backpack program. The Kettering Backpack program is set up to help feed students living with food insecurity and who have a hard time finding food on the weekends. Our fundraising also goes towards the Honor Flight Program. This program takes veterans to Washington D.C. to visit the memorials of the wars they fought in. They fly out on a chartered plane and all of this is completely free for the veterans. It is often the first time that they have visited their memorials.
Tell us about a moment or a story that captures your lodge's commitment to charity
and bettering the community.
I'll share a good story: as I mentioned before, Alpha Lodge raises money to send veterans to D.C. to see the monuments through the Honor Flight program. We have many Brothers who are veterans, so a few years ago we were able to send a father and son on one of the trips. After they got back, I asked them to talk about their experience. Both men are normally very willing to talk, but both declined, saying that the experience was so personal and so powerful that they couldn't put it into words. They just asked that we continue to raise money so that other veterans could spend time with their fellow Brethren.
How do the Brothers interact and help each other at these charity events?
Everyone fills a role, usually without asking. Everyone understands what they need to do to support the overall objective and they support each other. It's always a good time.
What about this lodge made you want to be part of it?
While there isn't a specific type of man who joins Alpha, I find that most of my Brothers are simply working on bettering themselves. That's why I joined.

Do you want your lodge featured on the Grand Lodge of Ohio's blog? Reach out to OhioLodgeLife@Freemason.com with details about the inspiring work your lodge is doing to improve its community!