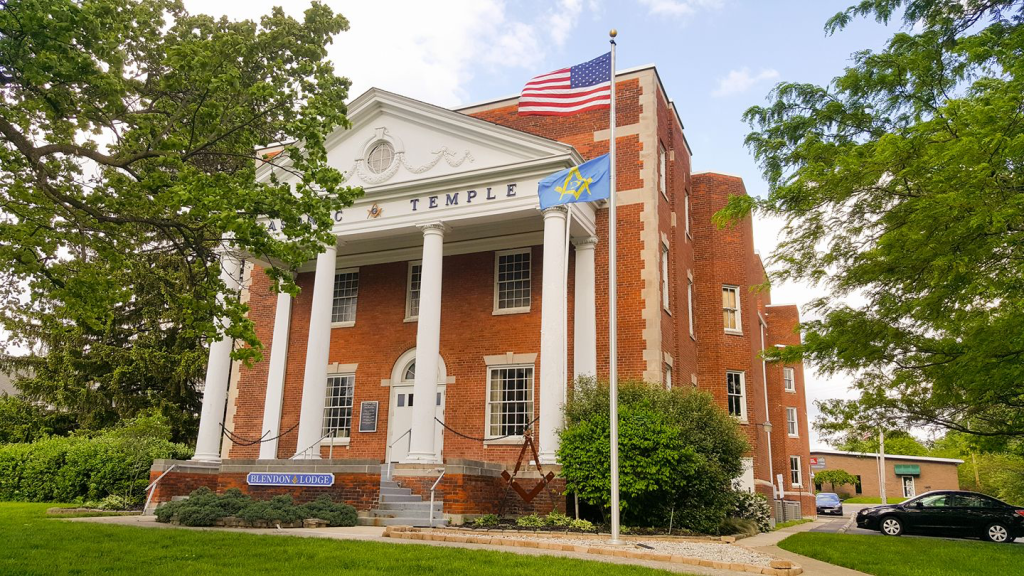 Tell us about Blendon Lodge. What makes it unique? What is it known for?
Blendon Lodge is a pillar of the Westerville Community. It is hard to miss the gleaming white pillars and unique architecture of the temple as you drive down State Street, the main street through Uptown Westerville. The building itself is unique in that it was built as a Masonic Temple with funds from special campaigns, and with a $50,000 note that 31 Brothers signed as guarantors. The Temple site was purchased on November 27th, 1927. Original estimates to build the Lodge were around $80,000 but as the building progressed, the cost rose closer to $100,000.
The cornerstone was laid in February of 1930 with a large procession of Masons and dignitaries through Uptown Westerville. The first meeting at the Temple was held on March 26,1931 and the formal dedication of the Temple was held on October 30th, 1932. About 20 years later, the Lodge celebrated "The Burning of the Mortgage" when it was paid off on April 2, 1956. Some Brothers had actually mortgaged their houses to help finance the building! Throughout its history, the building's lower basement has housed a bowling alley, a kindergarten class, and currently a soil testing company. The main floor has a Masonic library, lounge area, and spacious kitchen and dining hall. The upper level has a smaller historical meeting room set up with original furniture from the earlier rented halls and the large current meeting room has seats acquired from the movie theater that used to be up the street. It also has a dome in the ceiling – probably one of the most unique features of the Lodge as it can amplify voices from one side of the room to the other!
What is the community of Westerville like? What is your Lodge's interaction in the community?
I may be biased since I grew up in Westerville, but it is a wonderful community! It's a suburb of Columbus and while it continues to grow every day it still has that small town feel; neighbors wave as you pass by and kids are seen playing or riding bikes down the streets. It has a rich history starting in 1902 when it became the new home to the Anti-Saloon League. The founding members of the Lodge bought the land from them to build the Masonic Temple, earning it the nickname of "Dry Capital of the World." Westerville also played a role in the Underground Railroad.
While Masonic lodges existed in Westerville before the current Temple was built, Blendon Lodge has rich ties to the city of Westerville. One of our charter members was Peter Westervelt – part of Westerville's namesake family. The Lodge is heavily involved in the community and during the fall, the front lawn of the Temple is a sight to behold as it is scattered with hundreds of pumpkins for the local Boy Scout troop pumpkin sale. It also is the most popular spot to catch the 4th of July parade. During the parade the lodge hosts a concession stand where members from the community can stop by to grab a hot dog and soda, all of the proceeds go to the Westerville Special Olympics.
We also have an annual Pancakes for Pelotonia breakfast fundraiser to support cancer research. We partner with WARM (Westerville Area Resource Ministry) to donate food and sponsor several families during Christmas. At the end of the school year we also present scholarships to a senior at each of Westerville's three high schools.
We hold several Open House events throughout the year so the public can tour the building and learn the history of both the building and masonry in general. We are one of 17 historic sites as part of a program through the Westerville Historical Society and will be installing a plaque on the building soon that outlines a brief history of the building. And of course, who can forget our famous Fish Fry?!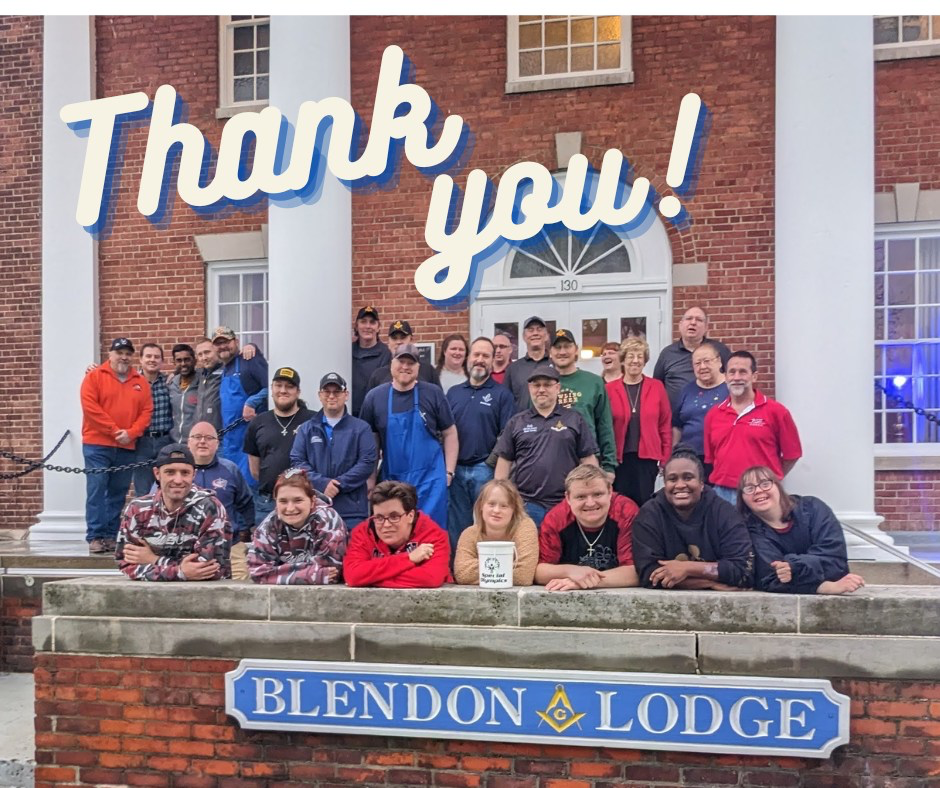 Tell us about the annual Fish Fry your lodge puts on.
We started our annual Fish Fry in 2017 as an additional fundraiser for the Westerville Special Olympics. It was an idea started by a Past Master of the Lodge, Craig Shumaker who has been our point person for the annual event. We do it once a year on the last Friday of Lent from 4:00-7:30 pm. The Special Olympic athletes and staff assist with running food, serving, and clean-up. The meals consist of hand breaded Alaskan Pollock or Haddock, hand cut french fries, cole slaw, applesauce, and macaroni & cheese. We sold around 150 dinners and raised about $1100 for the Westerville Special Olympics at our first Fish Fry.
In 2018, we sold 242 meals and raised around $1600. In 2019, we sold 318 meals and $1600 raised (due to higher food costs). In 2020 and 2021, we had to cancel the Fish Fry due to the Covid-19 pandemic. In 2022, we sold 362 meals and raised around $2700, and this year we sold 387 meals and raised around $3000 for the Westerville Special Olympics! We actually sold out this year with 1 hour left of the scheduled event due to the popularity!
In 2019, we were voted as one of the top 5 Central Ohio Fish Fries by viewers of NBC4 – a pretty big honor considering the other 4 spots were restaurants and churches. It's grown exponentially every year and we may be at the point of capacity as it's gotten so popular, so we always recommend getting there early! We are excited that it's grown into such a monster because ALL proceeds go to the Westerville Special Olympics and it's always an honor to present a check to them. The donation makes up a significant portion of their yearly expenses to send their athletes to the national events.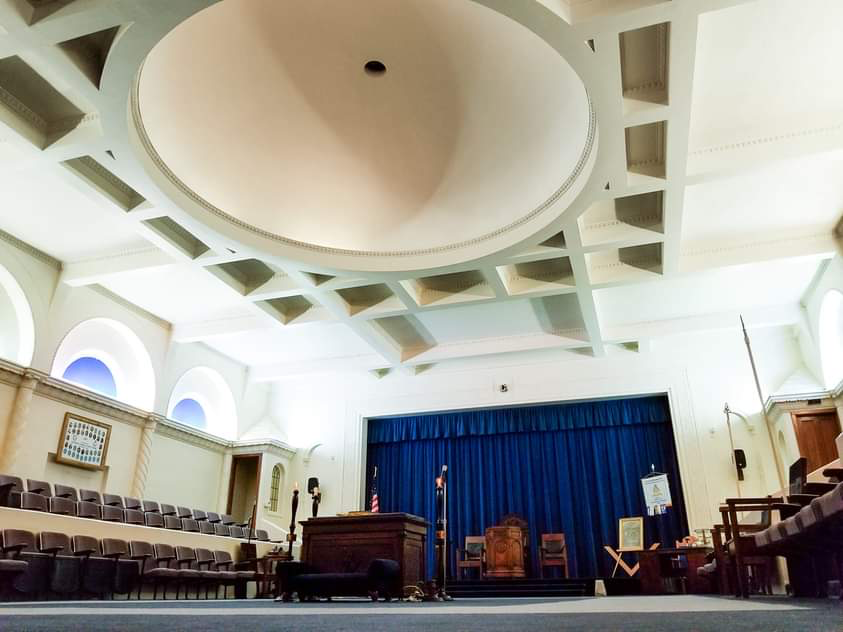 What is the relationship between Brothers in the lodge? How do they interact with each other and engage in Lodge events?
The Brothers of the lodge have a very strong relationship with each other. Our lodge is made up of both young and older members. Our meetings are attended by Past Masters and new members alike. After our meetings, we meet at a local nearby watering hole to continue our fellowship and relax. We support each other without hesitation. There have been multiple instances when a Brother has asked for assistance and without a pause, several Brothers will jump in to assist.
I can speak first hand with that – I was in need of a few extra hands for assistance in moving a few years back and mentioned it in a meeting, expecting maybe one Brother to get back to me as it was late notice and during the week. To my surprise, four Brothers showed up in the morning with equipment and helped me make several trips back and forth until I was moved into my new place, during a snowstorm no less! If anybody needs anything, somebody in the Lodge will assist or get them in touch with someone who can – everything from transportation to home improvement.
We are always looking to do Lodge events. In the past, we have done a dinner at a restaurant through a connection with one of our members, a cigar/study night at a local cigar club, and a Holiday Party with our sister lodge, Lodge Neoacacia #595.
Does your Lodge have any upcoming events you'd like to share?
We are attending a Columbus Clippers baseball game with Neoacacia and I am planning a public Ohio State University tailgate in our parking lot once the season starts again in the fall. And of course, we will again be doing our hot dog sale during the 4th of July parade.
What about this Lodge made you want to be part of it? What type of Mason does it attract?
People join the fraternity for different reasons – it could be for Brotherhood, to improve themselves, to be a part of something bigger, or to give back to community and charity. For me, it was all of that. Growing up in Westerville, I had always seen the Temple and I had always wondered what the building was. Once I got older and went to college at Bowling Green State University, I joined the men's chorus. It was very much like a fraternity. I moved back to Westerville after college and missed the camaraderie and brotherhood I experienced while in the men's chorus. I looked into what Blendon Lodge and Masonry were about and decided to meet the Master. It sounded exactly what I was looking for – a chance to meet a good group of guys while improving myself and being active in the community in which I grew up. Six years later, I am now Master of the Lodge that helped me learn so much more about myself and giving back. Blendon Lodge attracts men from all walks of life and all ages of life. We have a very diverse membership which makes the Brotherhood within the Lodge only that much stronger. We are very active in both the Mason and Westerville communities. Being just down the road from Otterbein University and on the main street though town makes us very visible. We have participated in Westerville's Fourth Friday events in the summer which have allowed several prospective members to engage with us, and given us the opportunity to show them the Lodge and discuss what being a Mason is about. We love our community and our members and it shows.
Interested in what other Ohio masonic Lodges are up to? Read our spotlights on Reynoldsburg Lodge #340 and Trinity Lodge #710 to learn more!