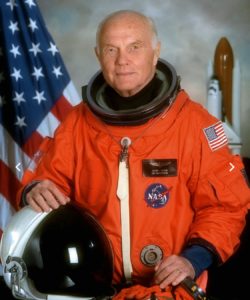 Brother John Glenn passes at age 95
John Glenn passed away December 8th in Columbus at the age of 95 after a week-long hospital stay. He is survived by his wife and two adult children.
John Herschel Glenn, Jr. was born in Cambridge, Ohio on July 18, 1921.
Glenn is an American hero and a proud son of Ohio. He rose to fame by being the first American to orbit the earth, but he continued to serve America and the Buckeye state for the rest of his life.
Glenn served in the US military first as a pilot and later as an astronaut from 1941-1965, retiring from the Marine Corps. He served as a Democratic Senator from Ohio from 1974-1999.
At age 77, he returned to space aboard the space shuttle for a nine day mission in 1998, which made him the oldest person to ever fly in space.
His final years were spent in support of the John Glenn College of Public Affairs at The Ohio State University.
Brother Glenn was made a Mason at sight on August 19, 1978 in Chillicothe, Ohio by the constitutional authority of the then Grand Master Jerry C. Rasor. Glenn had petitioned Concord Lodge No. 688 in 1964, but life got in the way. He was a member of Malta Lodge No. 118 when he passed away. He was also a member of the Scottish Rite and was awarded the 33rd degree in recognition of his service to humanity.
Well done good and faithful servant.
Looking to learn more about famous Masons? Explore our educational blog on four U.S. Presidents who were also Ohio Freemasons.