As Masons, our history runs deep. Reflecting on the fraternity before us, we are further inspired by the long-lasting dedication to the core tenants of Brotherly Love, Relief, and Truth. Our ancestry and history continues to prove that despite time, conflict, and new cultural influences, these values remain unshaken. For this week's blog, we delve into the American Civil War and how the guiding light of our craft prevailed in a time of darkness.

Ohio Freemasonry also recognizes the approaching Memorial Day as we honor those who lost their lives in service to our country. Many of those who have served, or continue to serve, are also members of our brotherhood. This weekend and beyond your sacrifice is remembered.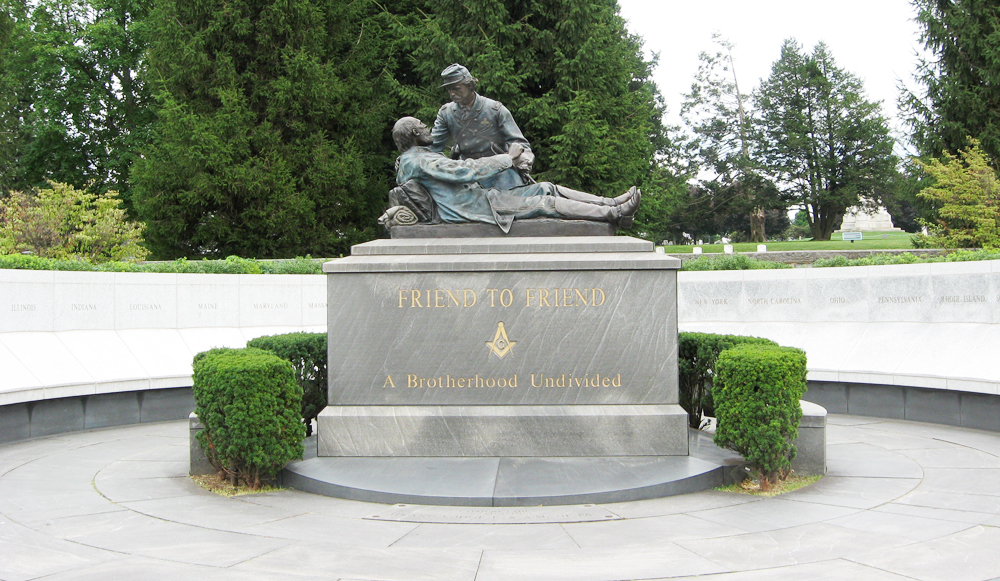 Brother Against Brother
Decades of tension and political strife over slavery, westward expansion, and disputed lands lead to the start of the American Civil War in 1861. Our nation was wrought with divisiveness, the North and South, Union and Confederacy, vying for control while the country entered one of its darkest and most formative chapters of development. A once thriving nation, proud of the freedom, industry, and ingenuity of a new world, dissolved into war.
This fragmentation of our unified state presented an alarming struggle in Freemasonry: brother fighting brother. Fathers, sons, and fraternal brothers were often in opposition, still connected by the Masonic values of Brotherly Love, Relief and Truth. How did these values of light and honor in Freemasonry prevail during a time of such darkness? Some researchers identify historical records that indicate Masonic acts of compassion, where Masons worked to ease the suffering of fellow brethren through charitable Relief despite division. Loyalty to the craft prevailed.
Michael A. Halleran, freelance writer, practicing attorney, and active Mason, provides possible insight into Freemasonry's role during those four years. In his book, Better Angels of our Nature: Freemasonry in the American Civil War, Bro. Halleran delves into the accounts of Masonic prisoners of war. He suggests that Masons provided resources to both allies and enemies to ameliorate hardship during conflict. In one instance, Bro. Halleran mentions the account of a soldier, John McElroy of Co. L. 16th Illinois Cavalry. In the soldier's writings, he observes Masons providing medicine, food, tent materials, and more within the prisoner camp.
A Savannah Story
Found in the records of a lodge in Savannah is a story of how, with war raging, Confederate soldiers helped a Union Brother complete a Masonic degree. According to an article from the Georgia Masonic Messenger, shortly after the start of the war, Union soldiers captured the beaches on Hilton Head. Before long, the northerners sent a message under the white flag: A Union soldier had passed through the Fellowcraft Degree before shipping out, and they wanted to see if a nearby lodge could test and raise him to a Master Mason.
Within days, a detail of Confederate cavalry escorted the Fellowcraft Mason and several Master Masons of the north safely through the Confederate Lines and over 30 miles of Confederate defenses to Savannah and the local Masonic lodge. The records note that this Brother was proficient in the Fellowcraft Degree, and he was raised to the Degree of a Master Mason. After the ritual was complete, the Confederate cavalry returned their Brothers to Hilton Head without incident.
Friend to Friend Masonic Memorial
Located in the south-side of Gettysburg, The Friend to Friend Masonic Memorial depicts Union General Winfield Scott Hancock and Confederate General Lewis Addison Armistead. These Generals were personal friends and members of Freemasonry having fought together prior to the Civil War. However, as with many during this time, these brothers were forced to be adversaries.
During the Battle of Gettysburg, Armistead was mortally wounded when he bravely breached Hancock's line. Union Captain Henry Bingham, a Mason and staff assistant to General Hancock, bent low in the battlefield to provide aid to the Confederate general. The memorial displays Armistead handing over his personal watch to Captain Bingham to be taken to his dear friend General Hancock. General Armistead did not survive. These two Generals and a Masonic Captain, thrown into conflict, were united by their friendship and dedication to being compassionate men.
On the monument, an inscription reads:
This monument is presented by the Right Worshipful Grand Lodge of Free and Accepted Masons of Pennsylvania and dedicated as a memorial to the Freemasons of the Union and the Confederacy. Their unique bonds of friendship enabled them to remain a brotherhood undivided, even as they fought in a divided nation, faithfully supporting the respective governments under which they lived.
Despite these years of bloodshed and disagreement, Freemasons established a stronger fraternity that embraced differences. An organization where men could meet in friendship and grace even in times of war.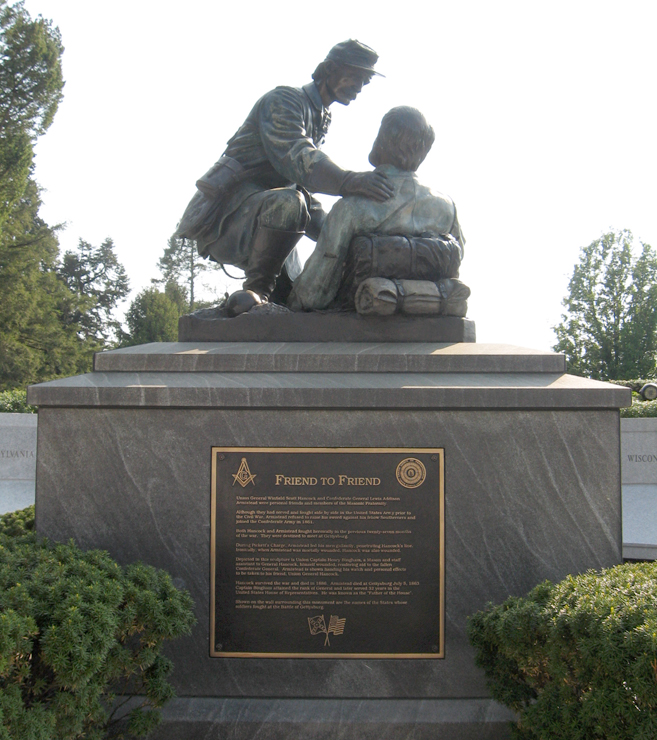 The Golden Age of Fraternalism
Thousands of Brothers served on both sides, leading to countless encounters and acts of Brotherly Love during the war. From the battlefields to prisoner camps, cities to villages, the commitment to our craft goes beyond any system of government, religion, or race.
Considering the immeasurable acts of kindness Brothers showed one another during the war, it is no surprise that the subsequent half-century Freemasonry continued to flourish in America. From 1870 to 1920 came to be known as the "Golden Age of Fraternalism" in the United States. Driven mainly by Freemasonry, it is estimated at the peak, 40-percent of men belong to a fraternal order during this time. From the ashes of war, brethren began to rebuild and erect some of the most impressive Masonic structures in the country. Today, these buildings represent our Masonic values that have endured centuries and remain as strong as ever today.
These stories passed through history allow us to understand our craft, and appreciate the dedication these men had for their country and their brothers. Share your stories with us. Please send an email to @OhioLodgeLife@gmail.com or send us a private message on Facebook or Twitter.