The award-winning musical 'Hamilton' tells the story of the people long ago using the music and people of today. The success of the musical has renewed interest in the lives and stories of George Washington, Alexander Hamilton, Aaron Burr, and the men and women who helped form our great nation. Their stories are interesting and complicated, made even more so by the myths and legends that have developed around them. In 'Some Masonic Misconceptions,' a May 1990 Short Talk Bulletin from the Masonic Service Association, Brother Allen E. Roberts sought to dispel some of the more pervasive Masonic myths. A search of our own history reveals that MWB Lewis Cass (1810-1812) was instrumental in revealing the Aaron Burr conspiracy, a story that they won't be writing a musical about anytime soon.
Alexander Hamilton was never a Mason. The myth seems to stem from a painting entitled "The Petition," by John Ward Dunsmore which depicts a meeting of American Union Lodge. The Lodge met to consider a petition to create a General Grand Lodge for the United States with George Washington as the General Grand Master. The artist decided to take some artistic license and included Hamilton, a non-Mason, in the painting.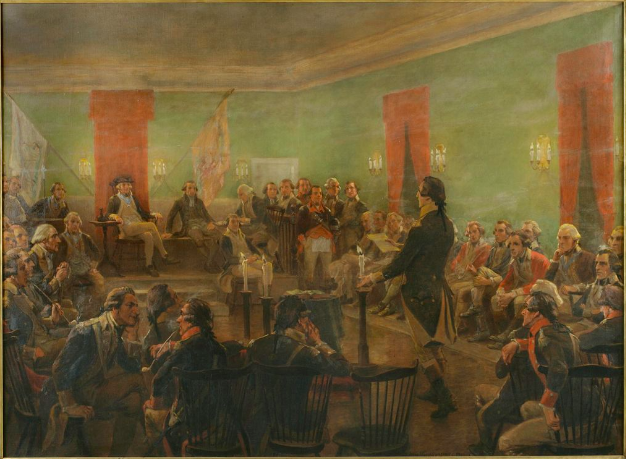 Brother George Washington was elected as Master of a Lodge, but there is no evidence that he ever presided as such. Alexandria Lodge #39 of Pennsylvania asked the Grand Lodge of Virginia for a new charter. Washington was an Honorary Member of this Lodge. When the Grand Master signed the Virginia charter, Washington's name appeared in the place where the Master's normally would. The following December, while serving as President, Washington was elected but never installed as Master of Alexandria Lodge #22. Even though his civic duty kept him from attending Lodge, he held Freemasonry in the utmost regard and was buried with full Masonic Honors.
Anti-Masons in the early 1800s put forth the story that Aaron Burr was expelled from Masonry after his duel with Alexander Hamilton despite no evidence that Burr was ever a Mason. An interesting note in Ohio history is the Burr Conspiracy, a treasonous plot launched from Blennerhasset Island on the Ohio River. Burr's activities raised the suspicions of the Ohio Legislature, including Representative Lewis Cass. Most Worshipful Brother Cass was one of the founders of the Grand Lodge of Ohio, representing Lodge of Amity; served as Grand Master of Ohio from 1810-1812, and served as the Grand Master of Michigan in 1826 and 1844. He also served as Secretary of War, Secretary of State, and ran for President twice. His life of service to Freemasonry and his country is worthy of study and a story that should be shared with all Masons.
Creative license is often taken with the lives of important and influential people. Once you sift through the myths and legends, you often find that the stories of the people who forged our country are interesting enough without the embellishments.
Link to The Petition: https://www.nyhistory.org/exhibit/petition
Link to MWB Cass' obituary: https://www.freemason.com/pgm/1810-lewis-cass/
Link to Some Masonic Misconceptions: https://bit.ly/Masonic_Misconceptions