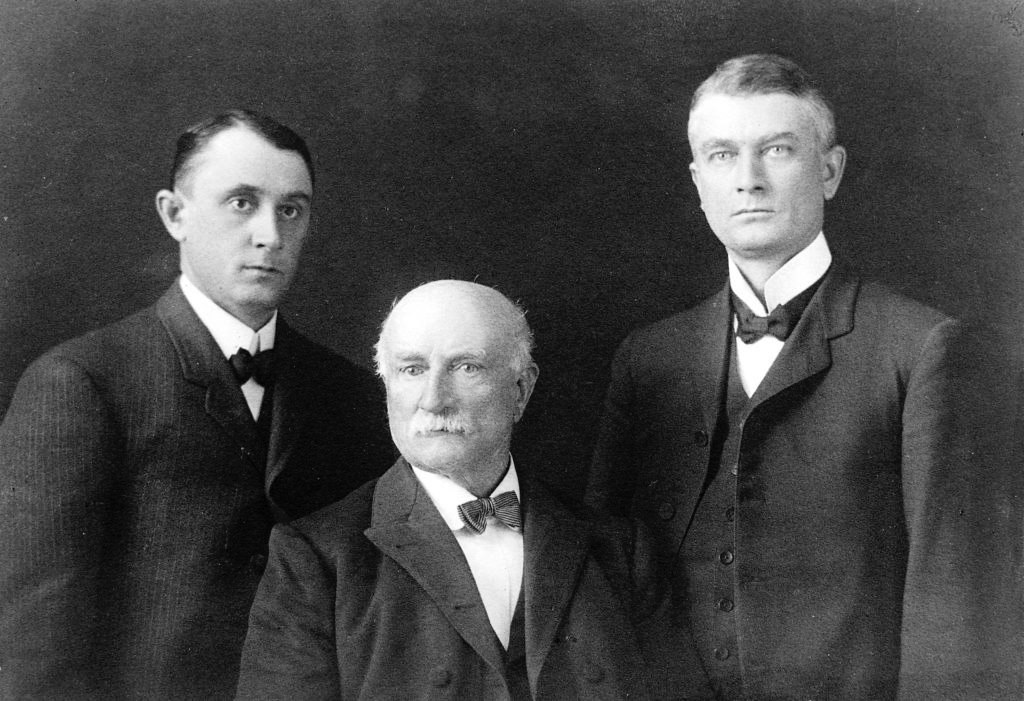 The Mayo Clinic is perhaps best known today for providing comprehensive healthcare information online. Since it was founded in 1864 in Rochester, Minnesota, it has blossomed into an international not-for-profit organization serving 1.3 million+ patients every year from around the world. What started as an effort by three Freemasons to provide relief to people in their community is now one of the largest healthcare organizations in the world.
Countless patients have received essential care thanks to the hard work of forward-thinking men like William W. Mayo, William J. Mayo, and Charles H. Mayo. Their commitment to our Masonic principles directly influenced medical research and education on an unparalleled scale.
William Worrall Mayo: Chemist and Physician
The extraordinary life of William W. Mayo began on May 31, 1819, in Eccles, Lancashire, England. Before becoming a doctor, he was a chemistry student in Manchester studying under John Dalton, the famous scientist who developed the modern atomic theory. He traveled to America in 1845, landing first in New York City, where he practiced as a chemist. While living in the city, he also served as a chemistry and physics instructor at Bellevue Hospital Medical College.
As a traveling man, Mayo spent many years moving from one place to the next. After New York City, he lived briefly in Buffalo and then relocated to Lafayette, Indiana, where he worked as a tailor. During the onset of a cholera outbreak in 1849, William elected to return to medicine so he could help patients in need. He studied at Indiana Medical College in La Porte, Indiana, to complete his medical education, coupling his classes with hands-on training under a local doctor.
While living in La Porte, William married Louise Abigail Wright in 1851. They had Gertrude, their first of five children, in 1853, not long before Dr. Mayo left to work and study medicine at the University of Missouri's medical department. He graduated from the University of Missouri in 1854 with his medical degree.
After contracting malaria in 1854, William decided a new climate was in order for him and his family. They relocated to Minnesota, and he began working in a series of vocations, including census taker, farmer, ferry operator, and justice of the peace. Once the family moved to Rochester, MN, Dr. Mayo established his first medical practice and became very active in the community. While living in Rochester, he was elected mayor, alderman, and to the school board, all while traveling the country to keep up with the latest medical knowledge and surgical techniques.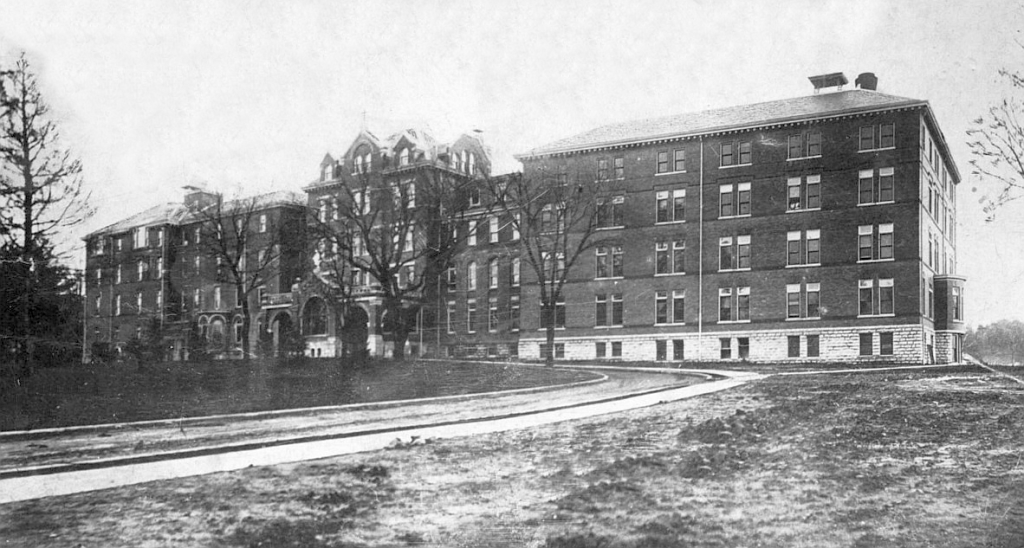 The Birth of the Mayo Clinic
By the time a deadly tornado hit Rochester on August 21, 1883, William had been operating his medical practice for 20 years. He had grown and partnered with several physicians, including Christopher Graham, E. Starr Judd, Henry Stanley Plummer, Melvin Millet, and Donald Balfour. Despite their success, they were ill-equipped to handle the scale of injured citizens following the tornado.
With no proper hospital in the community, Dr. Mayo and the sisters of St. Francis had to treat many of the wounded in a local library. His sons William and Charles were both able to help as they had recently completed medical school. The disaster was a wake-up call, and the three Mayo doctors and the sisters began planning St. Mary's Hospital. On October 1, 1889, St Mary's opened, equipped with proper facilities that included 12 beds. The Mayo family acted as the surgeons, while the sisters of St. Francis served as the nursing and administrative staff.
The Mayo Clinic immediately established itself as a modern, innovative organization. In the true Masonic spirit, St. Mary's Hospital welcomed patients regardless of sex, race, religion, or ability to pay for care. The doctors focused on fighting infections, using anesthesia, and other cutting-edge surgical practices.
The Mayos and Freemasonry
Shortly after moving the family to Rochester, William joined the local Masonic community, becoming a member of Rochester Lodge No. 21. In fact, the Masonic lodge played a critical role in helping William's family practice get off the ground. Once William Sr. was joined by his sons, the practice needed more room to grow. His small, local practice couldn't accommodate the volume of patients, and they needed a new location for examinations.
In 1901, William donated to the local Masonic Temple Association to help it erect a new Masonic lodge. As members of the lodge, Drs. William W. and Charles H. Mayo used the first-floor offices for more than 10 years to see and treat patients.
Charles Mayo was always very active in the fraternity and was also a member of Halcyon Chapter No. 8, Royal Arch Masons, and a member of Home Commandery No. 5, Knights Templar. He was a member of the Ancient Accepted Scottish Rite and received his 33° in 1935.
For their contributions to the fraternity and humanity, The Scottish Rite Museum and Library inducted William W. Mayo, William J. Mayo, and Charles H. Mayo into the Masonic Hall of Fame in 2022.
Growth and Expansion
In the years after St. Mary's Hospital opened its door, William retired, and his sons took over the medical practice. Notably, they welcomed others to join them, including prominent physicians Augustus W. Stinchfield, Christopher Graham, Melvin C. Millet, Henry Plummer, E. Star Judd, and Donald Balfour.
Having learned from their father, the Mayo brothers understood there was an opportunity to create a medical organization unlike any other. They sought to establish a clinic with labs and doctors' offices in the same building. This setup allowed physicians to exchange information more quickly, collaborate on cases, and give patients access to multiple specialists.
By 1914, St. Mary's was treating 8,000 patients yearly, enough to garner national media attention. Newspapers began writing about "the Mayo Clinic" and its groundbreaking approach to comprehensive patient care. Thanks to the growing railroad network in the West, physicians from around the country traveled to learn at the Mayo Clinic. The medical community celebrated the Mayo family for their innovative approach to medicine, and Charles and William Jr. each served as president of the American Medical Association.
The Mayo Clinic Today
Ultimately, the brothers endowed the Mayo Foundation for Medical Education and Research, donating the assets of the medical practice, including land, buildings, and equipment. After 60 years as a private partnership, the Mayo Clinic became a not-for-profit organization. Over a century later, the clinic is now renowned for its research, education, and the caliber of medical care it provides. The organization performs one of the highest numbers of transplants in the country.
Today, more than a million patients across the United States and 138 countries receive care from the Mayo Clinic every year. Furthermore, the Mayo Clinic Alix School of Medicine is one of the preeminent medical schools in the nation. It has one of the highest-regarded residency education programs in the United States. The clinic spends over $660 million yearly on research and has more than 3,000 full-time research personnel.
The Mayo Clinic has ranked number one in the United States for seven consecutive years in U.S. News & World Report's Best Hospitals Honor Roll and has been near the top for almost 40 years. We thank William W. Mayo & his sons, Charles and William, for their help in actualizing our Masonic principle of Relief.
Interested in reading about other Masons who left their mark on history? Read our articles on Paul Revere and Leroy Gordon Cooper!