We recently completed our Faces of Ohio Freemasonry in which we asked our Ohio Brethren to nominate Brothers they believe truly embody the values of Freemasonry. The results are in and for the next few weeks, we will be featuring interviews with this year's winners right here on our blog.
This week's Face of Ohio Freemasonry is: Nick Thompson
What town do you live in?
Holland, Ohio
Which Lodge do you belong to?
Northern Light Lodge #40 out of Maumee, Ohio
What is your profession?
Assistant Vice President Retail Banking
How long have you been a Freemason?
5 years, I first joined in 2014.
What inspired you to become a Mason?
I became a Mason after reading about philosophers and statesmen I admired and discovering many of them to be Masons. I found out my cousin Hank was a Mason and that I had a long line of family members spanning to the early 1900s that were also Masons. After inquiring about membership I decided I wanted to be a part of something that was truly bigger than myself.
What does being a Freemason mean to you?
I think being a Freemason is many things to many people, to me it's about keeping my moral standards of life at a high level and leaving something behind for others. It's about becoming the best version of myself for my family, my friends and my community.
What is one piece of advice you would give to a new Mason?
Becoming a new Mason is an exciting journey, remember you are a Mason for life. Take the appropriate time for yourself and learn from mentors in your lodge, I know those moments will be with me forever. I've had the privilege to work with and become friends with some amazing men along the way, some of those are still with us and some have since past but every day I carry them with me. Everyone's journey is a bit different so enjoy it!
Remember you get out of Masonry what you put into it.
What are your goals/aspirations within the Craft?
I'd say right now my goal is to be the best Mason I can be. I've had the privilege to serve my lodge in several leadership roles and it was truly an honor doing so.
I truly love working with new members and being a part of their Masonic Journey. To me mentoring is one of the biggest ways a Mason can help their Lodge. My fondest memories are of the time I spent with my mentor and good friend WB Barney Stickels. I hope I can leave the same lasting legacy to another fellow Mason.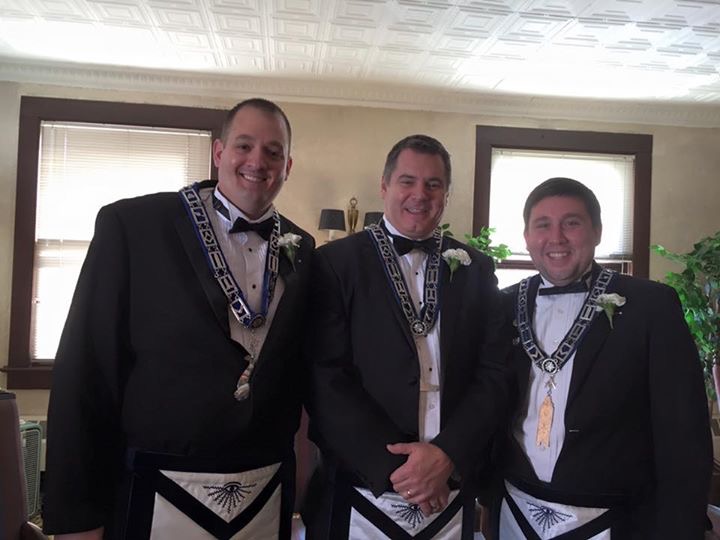 Get to know the many other faces of Ohio Freemasonry!