Tell us about Pilgrim Lodge.
We are one of two lodges (Steubenville #45 is also in our temple) in one of the last huge Masonic temples in Ohio that is still occupied by masons. We have been known for our degree work, the extent to which some of our brethren travel around the state educating other men, and for our work helping our brethren in need.
What is the community of Steubenville, Ohio like?
Steubenville is a community that is still finding its way. The community has really started to get together in the last few years. It was rough when the mills took a hit a while back and the population has shrunk quite a bit. The city has a monthly festival that highlights the small business downtown and they also have Fort Steuben open to tourists. There are plenty of events to attend that bring people together and empower the small businesses close by.
What is your Lodge's interaction in the community?
We sponsor one of the Nutcracker statues that are placed around town during the winter holidays. We have participated in the Christmas Parade and for a few years our town Santa was a lodge member! We are also blessed to have an auditorium that allows the community a chance to be in the building and breathe life into it. It's a great event space for the town.
We're aware your lodge has an emphasis on fellowship and community. Can you tell us more about that?
We feel that fellowship and being active in the community is a vital part of being a Mason. Men who join the lodge are looking for a chance to connect with brothers. They are trying to find that sense of community. I think that is what has always drawn men to Masonry.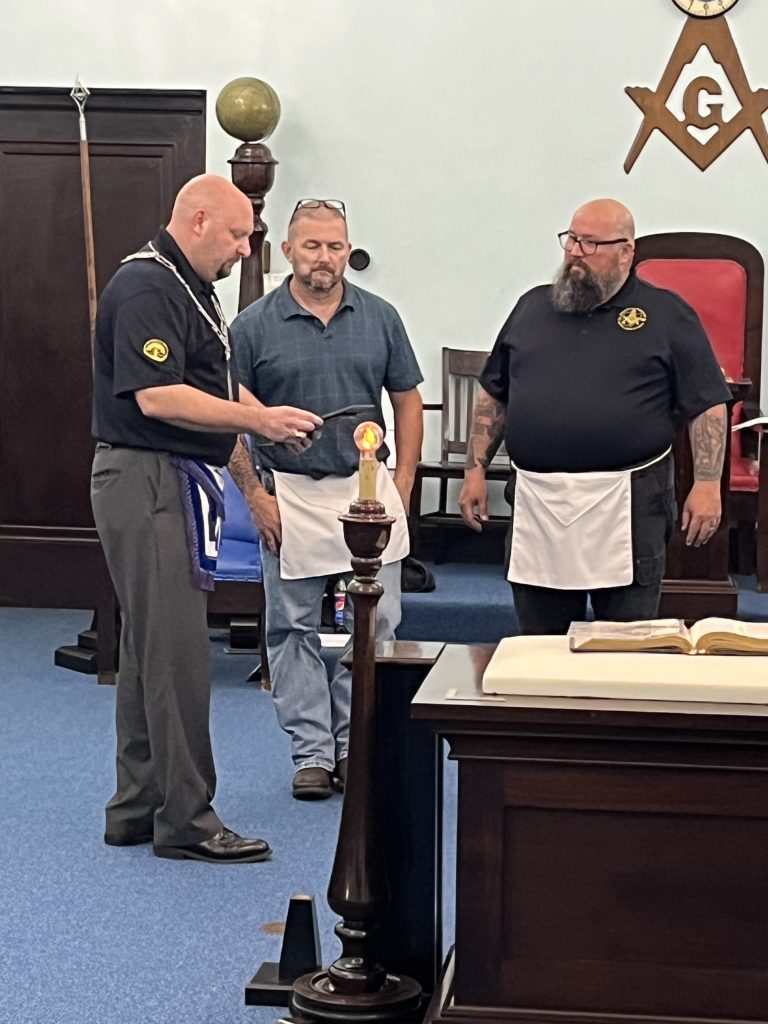 We're aware your lodge hosts community and family picnics. Can you tell us more about those?
We have felt for several years that engaging our brothers outside of the stated meetings and ritual work is vital to that sense of community that men are looking for.
What is the relationship between Brothers in the lodge?
It really feels like a brotherhood. We take care of each other when we have had hard times. When some couldn't help others have stepped up and filled in. When we get together it feels like we're old friends who can't wait to connect and be with each other.
Does your Lodge have any upcoming events you'd like to share?
Our Installation of Officers and Awards Night is coming up on December 2. This is an open event to everyone. It is a wonderful chance for everyone's families to come out and be together and celebrate our officers' great achievements.
What about this Lodge made you want to be part of it?
I initially joined out of curiosity as there were no Masons in my family. My father-in-law is the secretary of Pilgrim Lodge.
What made me stay and come back was that fellowship that I talked about. It was like seeing the old friends come together every month and truly being excited to see one another.
What type of Mason does it attract?
I think it attracts those who want to be involved in something that is historic. Some of the brethren love being a part of something with so much history. I think what brings them back is the sense of fellowship that we try to foster amongst each other.

Want to read other Ohio Masonic Lodge spotlights? Read our interviews with Fulton County Lodge #248, Oxford Lodge #67, and Edon Lodge #474!