If you read our blog about the curious tradition of the Muskrat Dinner, you may be wondering what other traditions occur across the state. As we continue to reminisce about gatherings before sheltering at home, we had a chance to catch up with Bro. Rick Miller of William H. Hoover Lodge #770 of North Canton, Ohio. Every year, they host an oyster dinner complete with all the camaraderie, laughs, and great food you could ask for. Read on to learn about what goes on during the night at Oyster Lodge. 
Q: Can you give us a brief history of how this tradition got started?
A: This tradition started in 1974. Interestingly enough, this was a dinner started by a Past Master of Caldwell Lodge, the same lodge that the Muskrat Dinner originates from. How it migrated through District 21 in Ohio was actually through my father, Frank J. Miller, who moved his membership to William H. Hoover Lodge in 2000. My father decided to get the tradition started at Hoover with his friend Bro. Blaine Werner in 2005 and the rest is history. Despite the move around the District, the tradition has stayed the same since 1974. It is interesting to note that the Grand Master of the Grand Lodge of Ohio usually attends the function. Arrangements are made two years in advance in order to get it onto the Grand Master's calendar of events.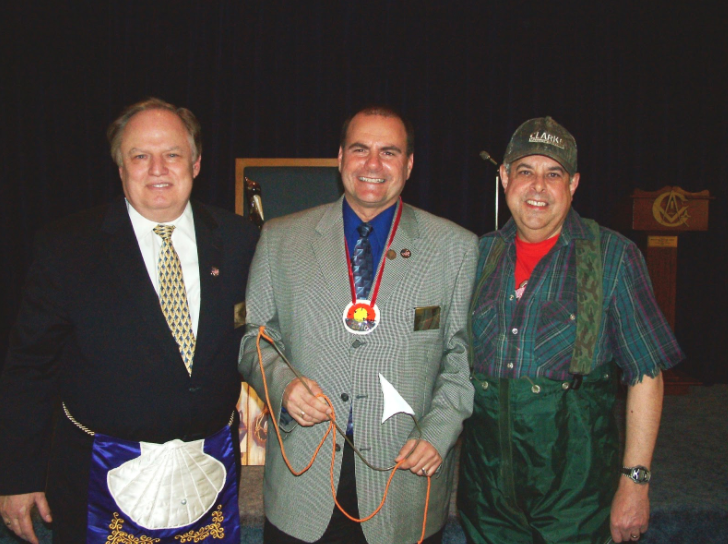 Q: What's on the menu for the dinner?
A: The night starts with a great seafood dinner, of course. For the last several years, we've been lucky enough to have a member of Bethel #31, International Order of Job's Daughters, a culinary school student who prepares the meal for us. She does a phenomenal job as she shares her skills with us, and we're more than happy to have a delicious meal! The meal usually consists of oyster stew, baked fish, roasted potatoes, cornbread, coleslaw, rice pudding, coffee, punch, and assorted salads and side dishes. We also have ladies from Legacy Chapter #596, Order of the Eastern Star, who participate by bringing side dishes like bean salad, coleslaw, pickled eggs, and such. They also help in serving the meal as well as in clean-up afterward. They are a tremendous help. And I would be remiss if I did not mention that the rice pudding is provided by Bro. Bill Maronitis, owner of Beyesly's Restaurant, a local food establishment. It is something that every brother attending wants to make sure of which they get their fair share.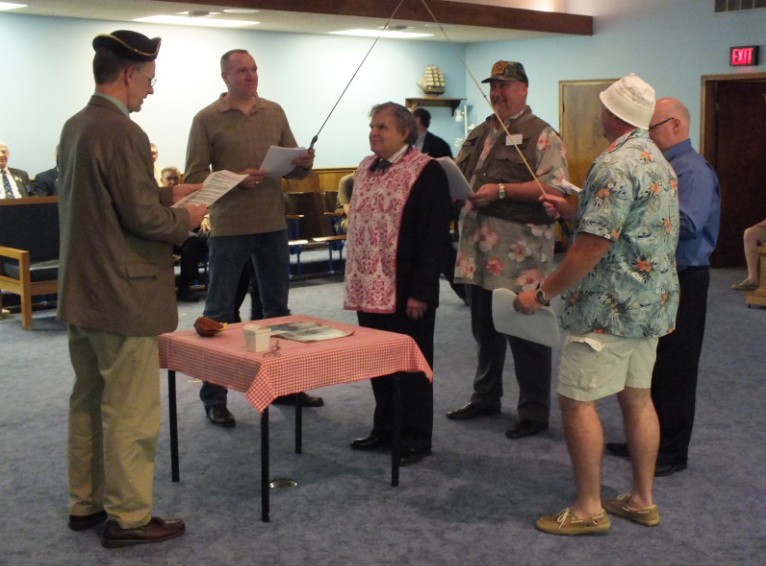 Q: We've heard some wacky skits go on during the dinner. Can you share what goes on? 
A: Once the dinner ends, there are some spoofs on Freemasonry in the skit. Staffs transform into fishing rods, the altar becomes a card table with a tablecloth, and the bible turns into a copy of Outdoor Life. We also refer to our Grand Master as "The Omnipotent Oyster" as he takes the East and our Secretary "The Keeper Of The Deep." Guys also keep to a themed attire perfect for a day at the beach, our Master and Senior Warden even wear pirate hats.
The best part is we do have a candidate but it is a secret kept until right before the ceremony. They're picked out at dinner by lodge officers and the stewards are then notified. During the Oyster Lodge ceremony, the stewards are instructed to 'get the candidate'. After they wander around the lodge room for several minutes looking at various potential 'victims', all of a sudden they go over to the person and lead him out and get him ready. Among other "rituals" performed, the candidate during the ceremony is fed gummy sharks as part of the spoof. Years ago, they did use raw oysters for this part of the "ritual", but that changed in order to prevent 'accidents'. 
Q: Are there any awards or jewels shared during the ceremony?
A: Yes, we create certificates that are signed by the Master and Secretary of the lodge. The certificates are fun and playful with shells, seahorses, tridents, and fishing rods. For the candidate, once they go through the skit, they receive a medallion sand dollar, hand-painted with a picture of a beach scene, and the date of the ceremony on the back. For the Grand Master, at the very end, he gets an apron made to look like something Poseidon would have worn. It is generally purple with a large scallop and a pearl.
Q: What makes the tradition so special?
A: What I believe sets this tradition apart is that the dinner is also opened up for brothers to bring prospective members to have a meal with us and get to know the lodge. This is a great time for them to see that Freemasonry is more than our formalwear and rituals, but goes even further to be a true brotherhood. Everyone gets involved to some degree, and everyone has a part. We try to make it as fun and inclusive of a night as possible. Brothers from all over the District as well as outside of the District come to attend. And of course one of the other purposes of the Oyster Lodge is to act as a fundraiser for a charity.
Have you attended the Oyster Lodge annual dinner? If so, share with us your most favorite memory from the dinner on social media! Find us at @grandlodgeohio on Facebook, @GrandLodgeOhio on Twitter, or email us at OhioLodgeLife@freemason.com.