Below is a letter from Grand Master Richard A. Dickerscheid addressed to all Freemasons of Ohio; you may also find this in the newest Winter Issue of The Ohio Beacon. In it, Grand Master Dickerscheid shares his charity plans for the Masonic year, expresses the importance of contacting prospective members to grow our fraternity, and sends warm wishes for health and happiness in 2021.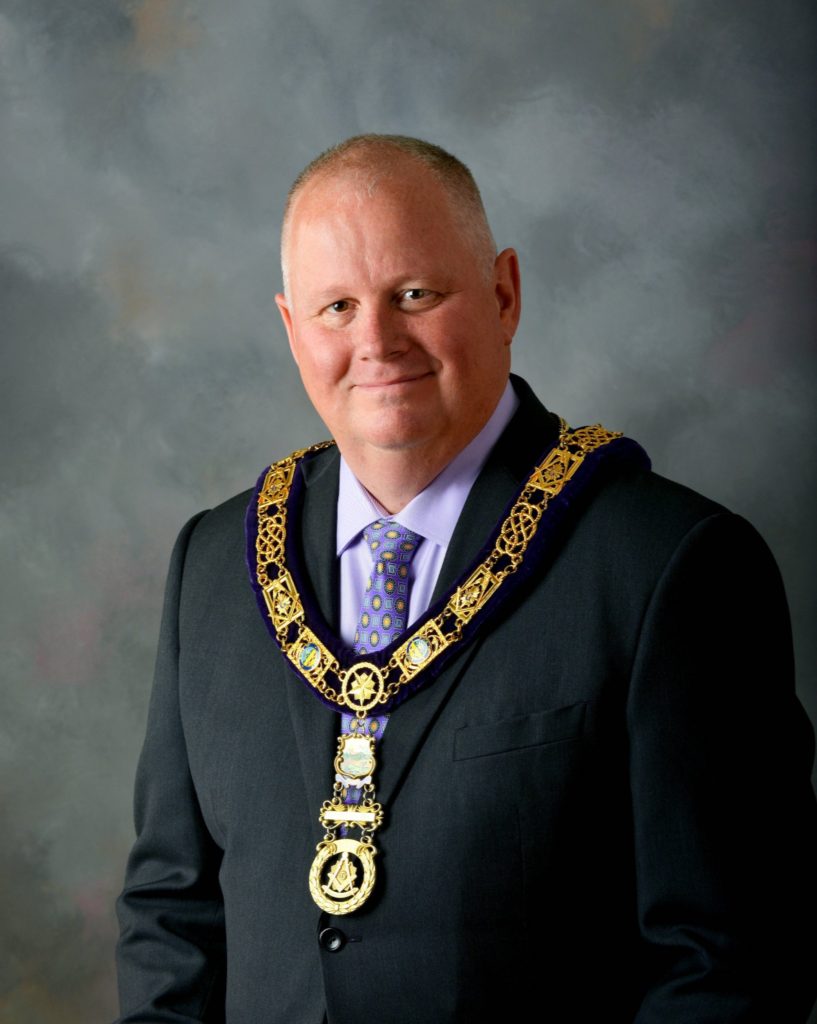 Brethren All,
I hope you had a great holiday season spending time with family and friends, whether in-person or virtually. I know these times are forcing us to make hard decisions, but at least we have more options available to us compared to those who lived through the last wide-spread pandemic in 1918!
There has been a lot of interest in my and Lady Teri's charity for the year. I would like to give you a little background on our thoughts. In our travels to other Masonic jurisdictions, we found charities in support of our Veterans that were reported in their annual sessions. Although the Grand Lodge of Ohio has had fundraisers in the past, I found it striking that we did not have a permanent fund dedicated to this cause. Lady Teri and I talked about it and have decided that supporting our Veterans and First Responders would be our charity for the year.
In a Grand Lodge of Ohio Charitable Foundation meeting a couple years ago, I made a motion to create a permanent account under the foundation "umbrella". This fund would be used for larger purchases and not for an individual. Our Grand Lodge Charitable Foundation is set up well to support an individual, but not necessarily a group. For example, our Veteran's Homes may need socks, electrolyte drinks for drug abuse detoxification, or other purchases that are not supplied by normal means. This is the principal purpose of this endeavor, and I am looking to "seed" this account so future generations shall benefit from our labors.
There has also been a lot of interest by those wishing to join our fraternity, both by traditional petitioning and the Grand View Inquiry process. We have over 1,000 men in the queue waiting to be contacted. Your lodge Prospect Manager is of critical importance to talk to these potential members. We have work to do, Brethren, and possibly great times for the future of our fraternity lie ahead!
I hope you and your family are doing well during these uncertain times. This virus is serious and real, and I can attest to that. By the release of Edict 2021-4, I have provided a way for lodges by their choice to work in-person or virtually. What we all hope for is the high effectiveness of the COVID-19 vaccine, especially for those who are the most vulnerable, so we can return to normal times. This would be our prayer.
Fraternally,
Richard A. Dickerscheid, Grand Master
If you are able to help support Grand Master Richard A. Dickerscheid's Veterans and First Responders charity initiative, please send your donation to the Grand Lodge Office, and write the check to the Grand Lodge of Ohio Charitable Foundation with "Veterans & First Responders" in the memo line.
The ongoing pandemic has affected all of us; we are thankful for the continued charitable efforts of our Brethren across the state. Explore their good deeds in more detail in the following blog posts: Local Masons Honor Fire Auxiliary, The Charitable Efforts of J.B. Covert Lodge, and Ohio Masons Continue to Step Into The Light During a National Pandemic.