6 years ago, during a regularly-stated Lodge meeting, a Brother of East Palestine Lodge stood up and asked what more he and his Brethren could do for their community of East Palestine. This one question led to an array of charitable efforts that the Lodge dedicated to their district. Read more about East Palestine #417 and what it means to become a Lodge dedicated to improving your community.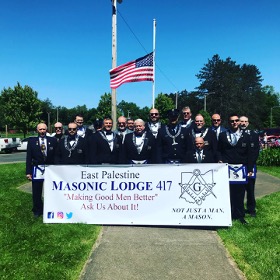 Tell us about East Palestine Lodge.
East Palestine Lodge is a vibrant lodge with new ideas and incredible fellowship! We were chartered on October 21st, 1868 making us 154 years old. We currently have 225 Master Masons and a variety of other Brothers working their way through the Masonic Degrees.
Our lodge is known for its fellowship and connecting with our community. We make an attempt to travel to as many events in our district as possible. It is also a priority that we travel outside of our district. There are great things happening in Freemasonry around the state that we can learn from and take back to our Lodge. We've gone as far as the Scottish Rite Temple in Indiana for the "Tri-Degree Day," Columbus for the first "Grand Masters Masonic Roadshow," and Cleveland for Forest City Lodge No. 388's "Brotherhood Night." We truly enjoy being together and appreciate each other's company.
What is the community of East Palestine like?
East Palestine is a small rural town of 4,700 people where everyone knows everyone. The Lodge tries to involve itself in as many community functions as it can. We take part in the Memorial Day Parade in full regalia and we have our families ride on our Christmas float in December. We hold the East Palestine Freedom Run 5K event on July 4th that coincides with the village's July 4th celebration. This year, 2022, will be the 6th year the run has been put on and all of the money raised at the event has been donated back into East Palestine. We split the money between the East Palestine Social Concerns group, East Palestine Fire and Police Departments, and the East Palestine Youth Sport Association. This year will also mark our 3rd Annual East Palestine Lodge No. 417's Golf Outing. The money made from it is also donated back into the town's civic organizations like the Special Olympics and the East Palestine Community Foundation!
What is the East Palestine Community Foundation?
The East Palestine Community Foundation was established by 8 local individuals in 2013 with the goal of funding projects that improve the existing assets of East Palestine. Their slogan is, "people working to benefit the community, so the community can benefit the people." Their crowning achievement so far has been the installation of the "Splash Pad" at the East Palestine Park Pool. The foundation was able to raise $35,000 to pay for the construction of new water lines, installation of the pad, and 20 polywood adirondack chairs.
Our Lodge connection to the Foundation started with my mother-in-law, Patricia Sugar. We had talked about joining the Lodge and the Foundation together on a project for the community. In 2019 the East Palestine City Council brought up the idea of a Disc Golf Course in the park. We thought it would be a great project to work on together. The pandemic, however, put a stop to everything and the village canceled all spending on the project. After persevering and continuing to raise money the course was officially opened in 2022 with both organizations contributing a total of $6,000!
How does your Lodge contribute to the East Palestine school district?
Our Lodge has contributed to the East Palestine school district in a variety of ways. We give out a $500 scholarship to the top 2 qualified graduating students to help with their schooling needs. For the first time this year we sponsored the varsity football team by ensuring they have what they need to succeed on the field. We've also donated 14 Kindle Fire tablets to the Special Education Department to help teachers easily communicate with their students. The Lodge wanted to be a constant presence in the school district in order to improve our children's education and future, but also as a way of showing people the great things Freemasonry is capable of!
What is the impact your lodge and its charitable efforts have on your local community?
We've been able to install a Disc Golf Course in the park for all members of the community to enjoy. Our contributions have helped our local Social Concerns group provide meals for those in need as well as help purchase Christmas gifts for families who may not be able to afford them. Donations to the Fire and Police Departments have allowed our village's July 4th celebration to grow. Working with the local school district has given us the opportunity to improve children's education and provide them with opportunities in and outside of the classroom.
Tell us about a moment that captures your lodge's commitment to improving the community.
About 6 years ago during one of our Lodge stated meetings, one of our officers pointed out that East Palestine #417 needed to do more for the town. The discussion lasted for quite some time and there was a lot of back and forth between Brethren. By the end of Lodge we had decided to prioritize our charitable donations to local funds and to go above and beyond to contribute more to the well being of East Palestine. We started with the 5K race and slowly got involved in the parades. These smaller contributions have led us to where we are today; connecting with the students in local schools and improving the parks of East Palestine. Our thought behind doing this was twofold; one, by connecting with our community we can make the place we live in and love that much better. Two, when I joined the Lodge my father-in-law mentioned that he'd lived in East Palestine for 65 years and had no idea what the Masons at the East Palestine Lodge did. Our connections to the community now allow everyone to see the great things that we do as Freemasons and also attract community members who may be interested in Freemasonry!
What about this lodge made you want to be part of it?
In the beginning, the mysteries of Freemasonry and the many historical figures that were Masons were the big draw for me. After I attended the stated meetings, the main attraction for me was being among Brothers who shared my values and mindset. My Brothers are supporting me in everything that I do, and not because they want something in return, but because they genuinely want what is best for me.
We attract men who are proud to be American, proud to live in Ohio, and proud to be good men. We keep these Brothers engaged with a strong sense of fellowship and a great educational program!
Want to read other local Lodge spotlights? Read our interviews with Middleport Lodge #363 and Alpha Lodge #729.