The Grand Lodge of Ohio recently sat down with Brother Matthew Gloor from Northern Light Lodge #40 in Maumee, Ohio. We discussed the lodge's close ties to its community, their many charitable initiatives, and why men choose Northern Light #40. Keep reading for the full interview!
Tell us about Northern Light Lodge. What makes it unique? What is it known for?
Northern Light #40 is the oldest Masonic lodge in northwest Ohio. It is responsible for forming many of the lodges in the area as well as the southeast region of Michigan. Our lodge celebrated its 200th anniversary a few years ago in 2018. It is still at its original location from 1818.
What is the community of Maumee like? What is your Lodge's interaction in the community?
Maumee is a thriving suburb of Toledo located on the southwest edge along the Maumee River. Our town's newly renovated Tow-Path trail and walkway is one to be enjoyed with many historic markers with information and wonderful views of the river. Maumee is very proud of the new walkway and hopes it serves as a loved spot for the community. The lodge also tries to participate in many of the events being hosted within the city, the most notable event we help out with is our float in the Christmas parade in December. The community loves this parade.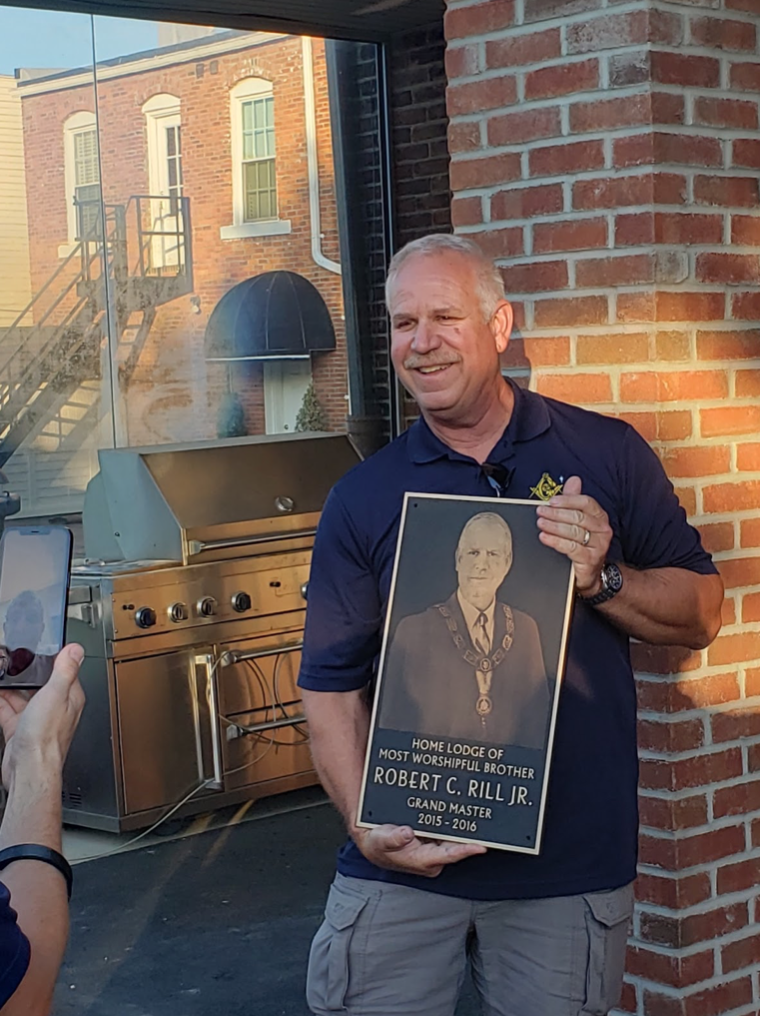 We're aware your lodge has an emphasis on history. Can you tell us more about that?
Northern Light #40 was formed by Lieutenant Almon Gibbs of the Army Masonic Lodge #24 after the Fort Meigs soldiers were disbanded. Fort Meigs is located along the Maumee River, close to our town and is of deep historical significance to us. Many of the streets in town also carry our members' last name, many were prominent citizens and involved in forming the city and building its future growth.
What is the relationship between Brothers in the lodge?
Our lodge roster has over 200 men from all walks of life and ages ranging from 23 to 99. We find this brings many different perspectives to the lodge. We always have a diverse group of brothers at all our events which allows for brothers to connect with each other and continue to build the bonds between us. We encourage all members to attend lodge events and find that many of them will carve time out of their busy schedules to support.
Does your Lodge have any events you'd like to share?
We had a 4th of July celebration at the lodge for the city's firework display on the 3rd of July. There was a big cook-out with games for the entire family to enjoy before the fireworks are set off. We have a great view of the river and fireworks display from our lodge side yard, so everyone felt like they were right at home during the event.
We also host a popular pancake breakfast, this past year First Lady Jane-Anne Grindle and other Grand Lodge ladies attended!
We also host an annual Kidney Fundraiser chaired by Past Master Doug Towslee. We just celebrated its 25th year and have raised over $212,000 for the Northwest Ohio Kidney Foundation – all the money stays right here and is used for the locals in northwest Ohio. We're very proud of this charitable initiative.
What about this Lodge made you want to be part of it? What type of Mason does it attract?
When I first became a Mason in 2005, my home lodge needed help to get me through my degree work and Northern Light #40 came to the rescue. Northern Light has a history of assisting as many lodges as it can in continuing Masonry and making Masons.
When they stepped in to help I felt a connection to all the brothers that helped me and wanted to show my respect and appreciation. I was so inspired I ended up joining Northern Light #40 in order to further my brotherhood connections with these men. Northern Light #40 attracts men from all walks of life, commonly we are all like-minded men that are aligned in a set shared of principles and guidelines to live our life. Freemasonry brings us together.

Interested in learning more about what other Ohio Masonic lodges are doing? Read our interviews with Hiram Lodge #18 and Blendon Lodge #339 !